How to Get Rs. 2000 Cash home delivered via Snapdeal
If you are still facing cash trouble, Snapdeal is here to help you. The major Indian e-commerce site Snapdeal has announced a new service Cash@Home to help customers facing cash issues. Now you can order the cash and get its delivery at your doorstep.
So, you do not need to go and stand in queues at banks of ATMs for cash. Snapdeal will be delivering the cash at your home and you can pay it using any ATM card. The best thing is that you do not need to order anything from Snapdeal to avail this cash delivery.
Snapdeal will be charging just Rs. 1 for the service that you can pay either using FreeCharge or debit card at the time of booking.
Note: It is worth to note that the service is not available in all locations and Snapdeal is testing in parts of Gurugram and Bengaluru.
Steps to Getting Rs. 2000 Cash home delivered via Snapdeal
1. Open the Snapdeal app. If you do not have the app installed on your phone, download and install it. The service is accessible only from the mobile app.
2. You will see the option to get cash at your doorstep. Tap on it.
3. In next step, it asks you to enter the Pin code to check if the service is available near to your location.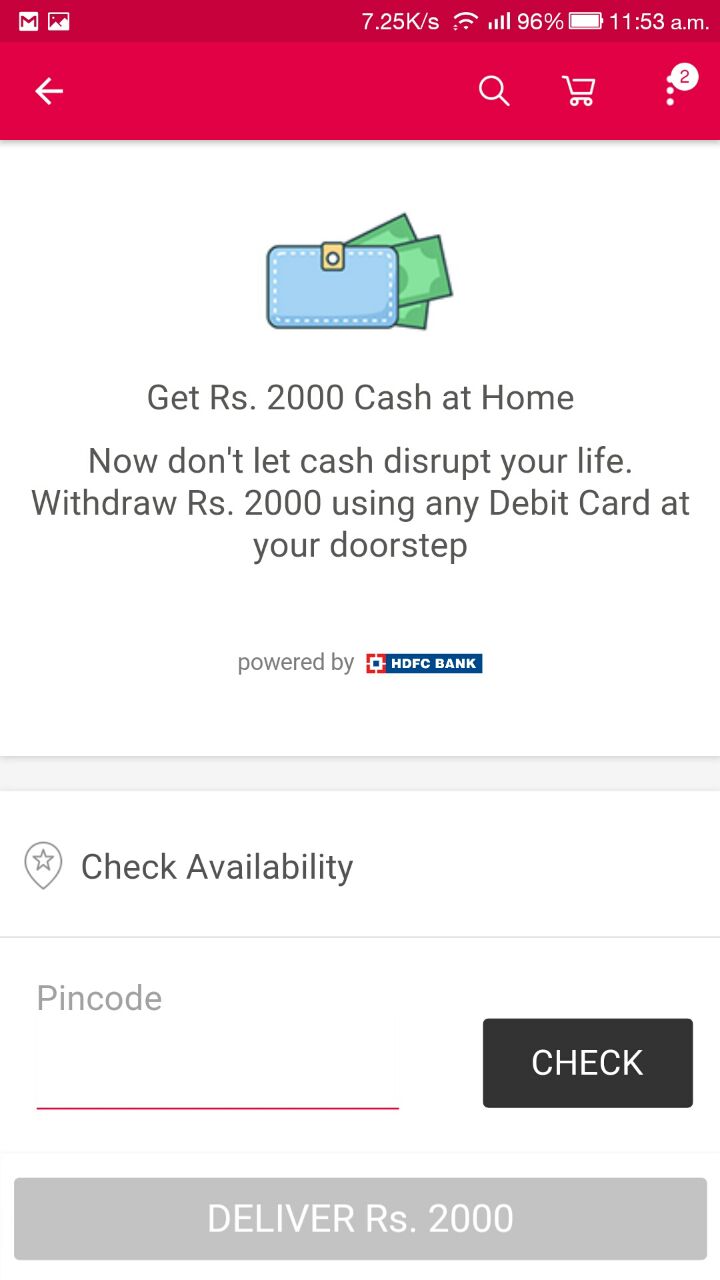 4. If the service is available in your area, you will be asked to pay Rs. 1 and order the cash at your home.
5. After paying the service free, your cash will be ordered and you will be receiving the cash soon at your home.
When we tried the service, Snapdeal has temporarily stopped accepting more orders due to the huge number of already pending orders. So, you must be lucky to get the cash from Snapdeal.
Snapdeal has partnered with HDFC bank to provide the cash service.
If you have anything to ask about this, you can ask us in comments.