Welcome to a Cashless India with Paytm
The announcement of demonization created trouble for most citizens who used cash only for transactions and have no idea how to pay using eWallets or debit cards. Now eWallets are helpful because it makes it easier and faster to pay as compared to debit or credit card payments. While there are few eWallets service providers, I will be focusing on Paytm and will use Paytm as an example to explain how you can become cashless and pay using eWallets online or offline.
What is eWallet?
Before I start, you should first understand what is eWallet. The eWallet is an online wallet where you can keep your money securely. You can also add your bank accounts and credit cards to fetch money to the wallets quickly. These eWallets are as safe as your bank accounts. The only thing you need to keep safe is your eWallet password. Once you have registered and created the account on eWallet, you can fill the money from your bank account and then start paying using eWallet easily.
You can also see eWallet as online pre-paid account where you can save your money and then use it for shopping online or offline.
What is Paytm?
Even if you are new to eWallet and online payments, Paytm should not be a new name for you. Paytm is an eWallet provider that is acceptable by most of the online and many offline stores for payments. Paytm itself offers mobile recharge, bill payments, and the online marketplace to give you most of the services at one place. It also has the partnership with various big and small offline retailers. So, you can even use Paytm wallet to pay at shops near you.
How to find what shops accept Paytm payment?
Paytm has made is easier to search what shops or stores around you accept Paytm wallet. Just visit Paytm Nearby page and allow the page to access your location. It will automatically show you nearby shops and stores to buy products and pay using Paytm.
For online shopping, you do not need to worry. Almost all online stores have Paytm integration.
How to Download the Paytm app?
Paytm app is available for most of the popular mobile platforms. If you own a smartphone, download the Paytm app.
Android | iOS | Blackberry | Windows
Download from the links above and install the app on your smartphone.
You can always use Paytm's website from the desktop browser to check your wallet balance, recharge the wallet or use Paytm's services.
Note: I will be using Android app to demonstrate different actions on Paytm. It works almost same on other platforms.
Once you have downloaded the app, you need to create the Paytm account. If you already have the account, you need to login using your existing Paytm account. Paytm account works on mobile number. So, your mobile number will act as your eWallet number for sending and receiving payments.
While creating the account on Paytm, it asks for the mobile number, email, and password. The email address is optional. Always choose a secure password that is hard to guess. This password is the key to making your Paytm account safe and secure.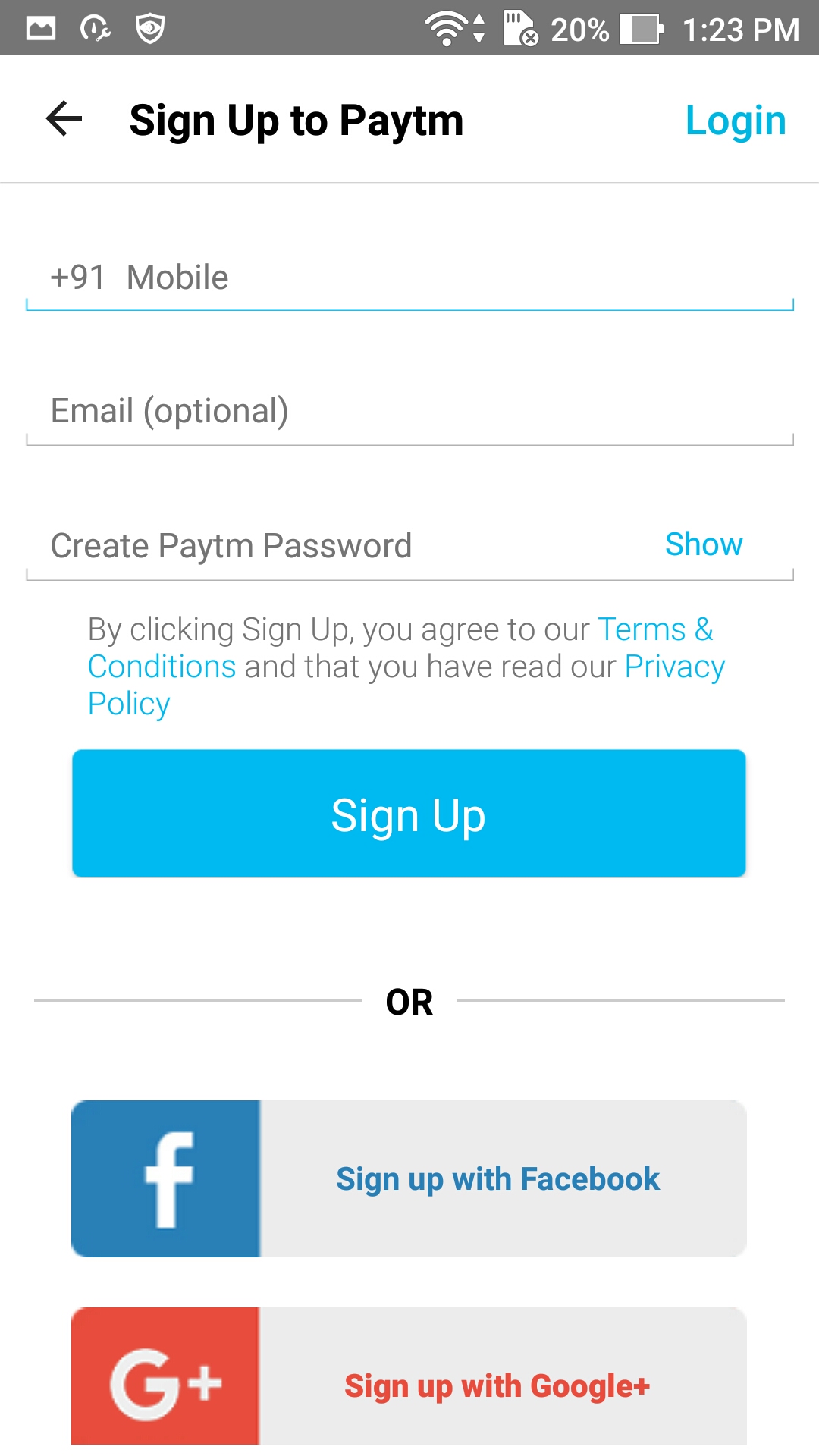 How to Add Money in Paytm Wallet?
Before you start using the Paytm Wallet, you need to add money to it. Adding money is very easy. Just follow these steps.
Step 1: Tap on 'Add Money' option at the top row. It is the second option.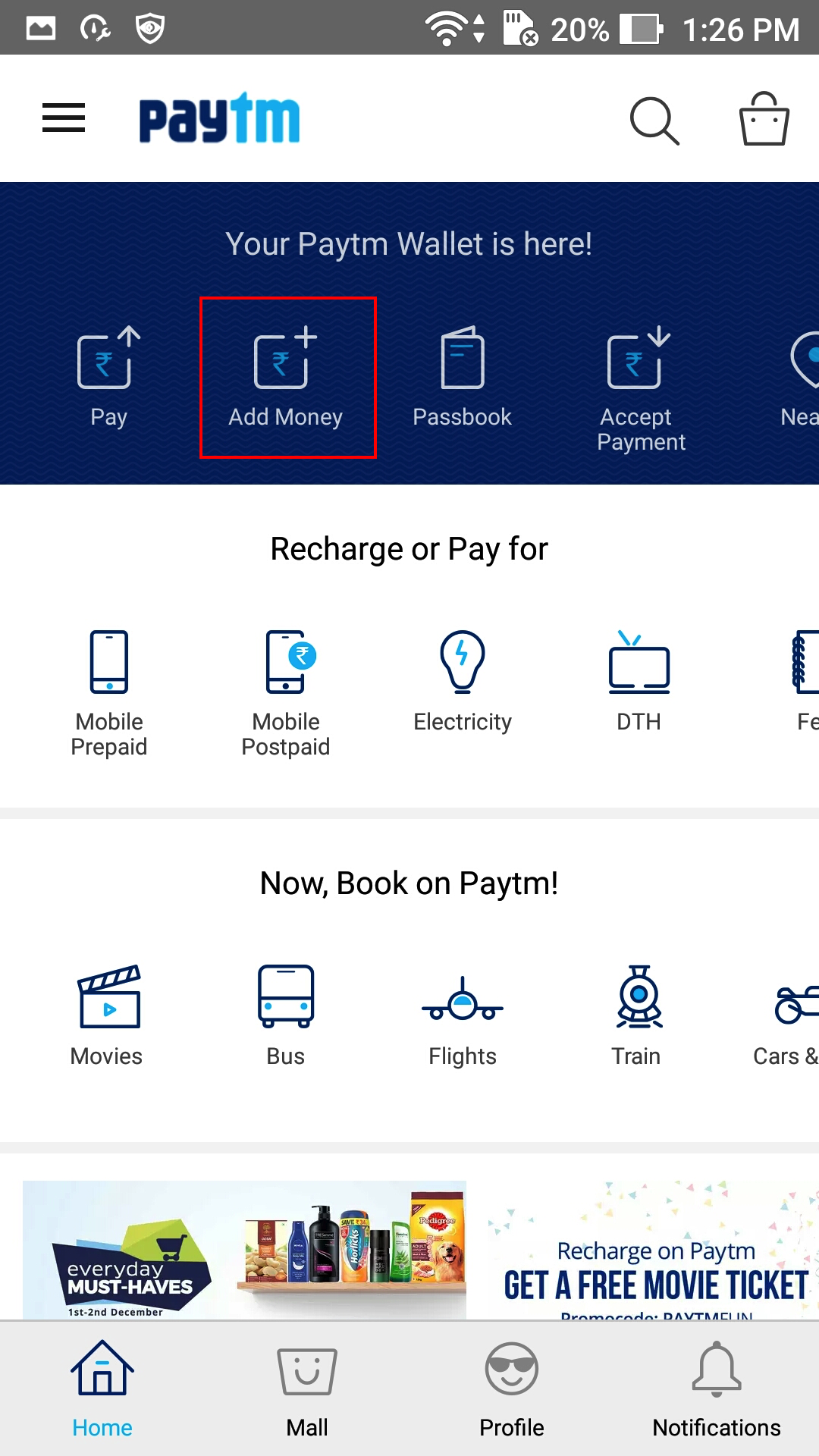 Step 2: Enter the amount you want to add in the wallet and tap on "Add Money" button. You can see in the snapshot that I already have Rs. 84.40 in my Paytm wallet and I am adding Rs. 500 more.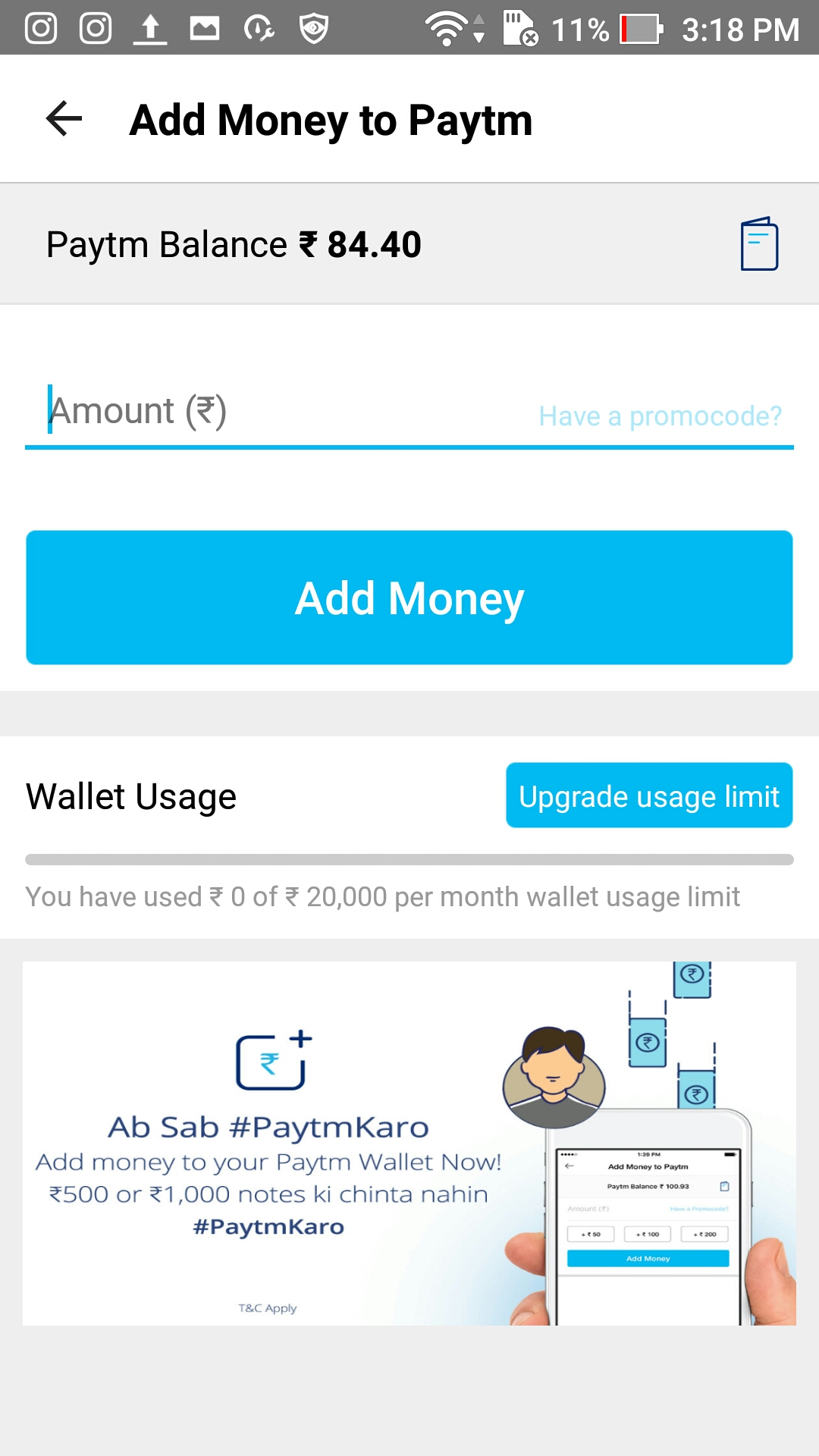 Step 3: It takes you to the payment page. You can select Net banking, Debit card or credit card options. If you have net banking or credit card, I do not think I need to explain how to pay. If you want to pay using the debit card, select the debit card option.
Step 4: Enter the 16 digit card number printed on your Debit card or ATM card provided by your bank. Enter the expiry date. CVV is only if you are using master or visa cards. For Maestro cards, this is optional. In case you need CVV, it is the three-digit number printed on the back side of your card.
Note: Never share your card number and CVV number with anyone. 
Step 5: It will send a one time password on your phone to verify if you are paying. Enter the code you receive on your phone via SMS and then your payment will be done.
Step 6: You have successfully recharged your Paytm wallet.
Note: Never share your card number, CVV number or bank's OTP sent in SMS
How to Send Money or Pay using Paytm
Paytm allows you send money to other Paytm user's wallet and it is much easier and quicker than sending money from bank account to bank account. So, you can quickly send money to friends using Paytm. You can also use the send money option to pay using Paytm.
For this follow the below steps.
Step 1: Tap on Pay icon at the top row.
Step 2: It opens the camera with square corners in screen and a line saying 'Scan the Paytm QR code to pay.' This option is used if you are going to pay in a shop. There the shopkeeper or merchant will give you a QR code to scan and pay.
If you do not have QR code, you can tap on the second option saying 'mobile number' at the top row. In this option, enter the mobile number, amount you want to send and remark to remember this transaction.
Step 3: if you have balance in your Paytm wallet, it will quickly send money. If you do not have sufficient balance, it will ask you to add more balance from your bank.
Step 4: The person will receive the money instantly and he will be notified via SMS
How to return money to your bank account?
Paytm also allows you to withdraw money into your bank account. So, you can easily return your money from Paytm wallet to bank account.
For this, follow these steps in the mobile app:
Step 1: Tap on Passbook option.
Step 2: In the new window, you will see the option saying, 'Send money to bank'. Tap on it.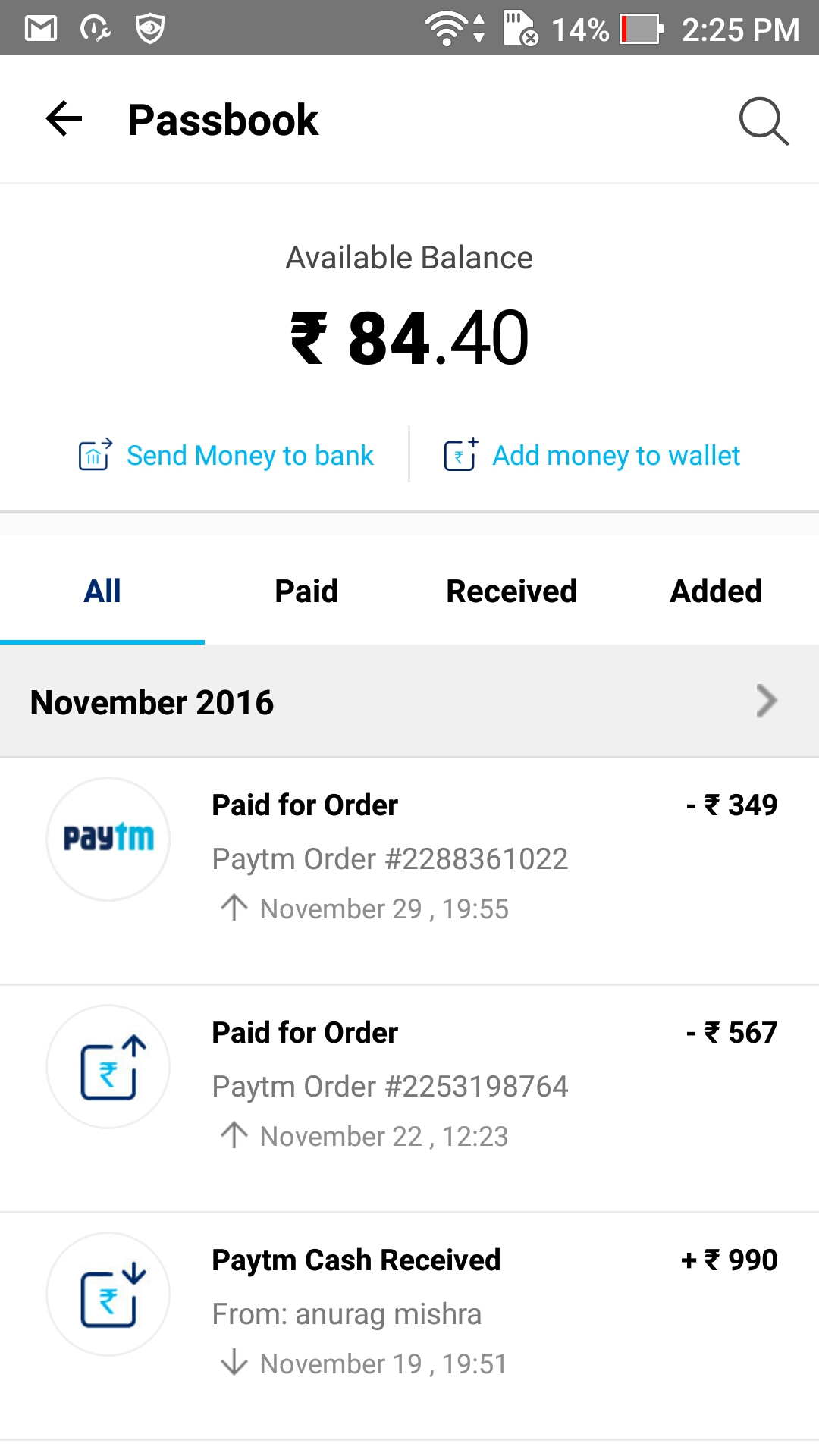 Step 3: Now it asks you to enter the account holder's name and bank details.
Step 4: Hit the send button.
What are the different ways in which users can use Paytm in their daily life?
Paytm is not just an eWallet service but a platform that can utilize the eWallet for different kind of payments. You can use Paytm to recharge mobile phones, pay bill of mobile phones, electricity, DTH, postpaid, data cards and more. You can also book tickets for bus, flights, and movies. You can also use Paytm's marketplace and buy different products.
Best thing is that Paytm also offers cashback for every recharge and purchase. So, you will also be saving your money while paying via Paytm.
Paytm is also acceptable in different offline stores and online stores. With every purchase made via Paytm, you will get cashback to save money. To find what offline stores accept Paytm, use the nearby option.
Now you know how you can use Paytm for paying on different online and offline shops.
Final Words
Paytm makes it very easy to pay for different services are one place. So, you will be able to reduce the headache of standing in the queue for paying different bills and booking tickets. The only thing you need to take care of is the security of your Paytm account. Paytm is itself secure and offers OTP to login. But, we recommend you to keep your phone always with you and do not share your Paytm or banking password with anyone.
If you still have any confusion, you can always comment below and ask.
Recommended Videos