Apple's New Patent Reveals Foldable iPhone Concept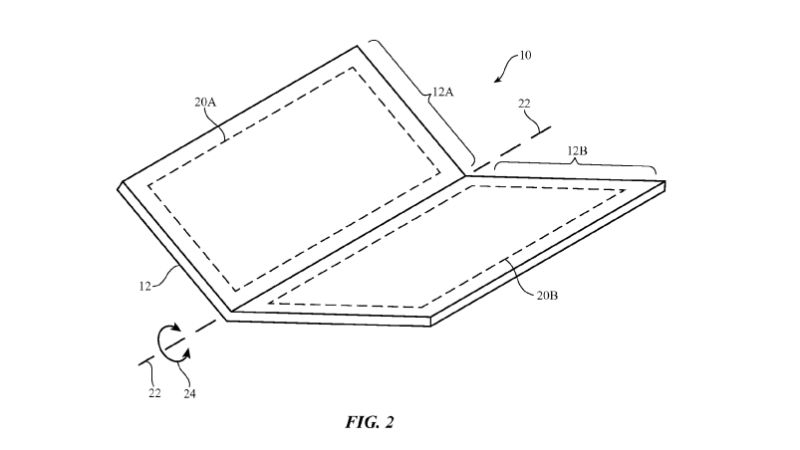 In past, we saw many rumors for foldable phones from different manufacturers. But seeing Apple in the same list is nothing less than a surprise. Apple was awarded a new patent shows that the company is exploring a foldable iPhone concept.
The patent uncovered by Patently Apple confirmed that Apple is serious about making foldable iPhone a reality. This patent is the proof of the company's work on this area. Apple believed to be working on foldable phones starting back in 2013.
Discount of Rs. 11000 on Samsung 32 Inches Series 4 HD Ready LED TV
Discount of Rs. 11000 on Samsung 32 Inches Series 4 HD Ready LED TV
The patent was filed back in August and was awarded earlier today. Apple used the name of its Engineer to hide it from Media but patent itself uses iPhone moniker. So, we got the clue. Images used in this patent also match the current iPhone design.
This patent confirms that future iPhone could be made of glass, ceramic, fiber, aluminum or plastic. There is not much difference in this. The notable thing is "carbon nanotubes" that would allow the iPhone to literally fold in half down the middle.
It also explains that future device will have a hinge or other bendable joint.
Conductive carbon nanotube paths can form signal paths that are flexible and resistant to cracking. The carbon nanotube structures may be incorporated into signal cables such as flexible printed circuit cables, rigid printed circuit boards, printed circuits that include rigid portions with flexible tails (sometimes referred to as "rigid flex"), portions of display structures, portions of touch sensors such as capacitive touch sensor arrays for displays or track pads, camera structures, antenna structures, housing structures, internal device structures, electrical components, substrates, brackets, housing walls, other structures, or combinations of these structures.
Samsung has also been working on the same kind of concept for past few years, but we are still waiting to see any actual product. The same thing will go with Apple. We are not expecting any foldable iPhone anytime soon. But, it is important to note that Apple is considering this kind of design. Apple is granted about 2000 patents a year. Apple always does proper research and testing before bringing anything for users. We see many Patents but very few of those come into reality.
This patent reminded me an awesome blog post wrote by George Colony, CEO Forrester. That blog post was published more than 3 and half years ago but that actually made sense. He wanted a foldable phone just because increasing the display sizes make it hard for people to handle a phone. While 5.5-inch or larger display size phones exist in the market but people actually find it hard to handle the phone or carry in the pocket. He explained how technology should be improved and especially the hinge technology to make this concept a reality. Now, we are actually getting the info of a concept in work. We hope to see something innovative in coming years.
As of now, Apple is considering wireless charging which is expected to come in next iPhone.
Do you wish to see foldable iPhone? Share your views with us in comments.
Image: USPTO