Bioo Lite is a plantpot that uses plants to charge your phone
With the increasing usage of smart devices, Battery life has become a major concern for us. While few companies are trying to make charging quicker, few tech companies are trying to bring more unconventional ways to charge smartphones. In the same series, some other companies are coming up with sustainable green energy.
We just got an interesting product 'Bioo Lite' listed on Indiegogo. This is a plantpot which can also charge your phone. It utilizes the plant's organic component ousted after photosynthesis to make power. This generated power is used to charge the phone via USB cable present inside it.
It allows 2 to 3 charges per day. This pot generates power both day and night. So, you have freedom to charge your phone anytime. Power output is 5.0V, 1.0A.You can charge smartphones running on Android, iOS or Windows easily. It will only work if the plant is alive. So, take care of your plant if you want to charge your phone.
How to use
There is nothing complicated. See the graphics below to understand how to use this plant pot to charge your phone. Keep te usb port outside and then fill water in the pot. Shake it carefully to allow water flow inside. Now, place your plant in this plant pot leaving USB port visible to use later.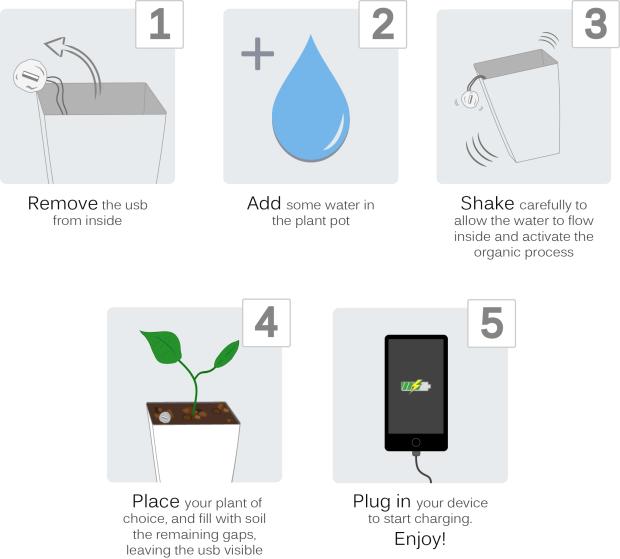 This pot is available for an early bird special discount of roughly $112 on Indiegogo. Other cheaper options are now not available. The company has already surpassed the goal of €15,000.