Wondershare PDFelement changes the way you work with PDF [Review]
If you are looking for PDF management software that have ability to open, edit, view and to convert PDF files to other formats like word, excel, ppt, image, text etc. without complications and have several control tools, password protection, OCR (optical character recognition) plug-in and documents markings then you are at right place. Wondershare PDFelement is best PDF manager or you can say perfect full featured PDF document creator at professional level. It works with both Windows as well as Mac and can be used by beginners and professionals.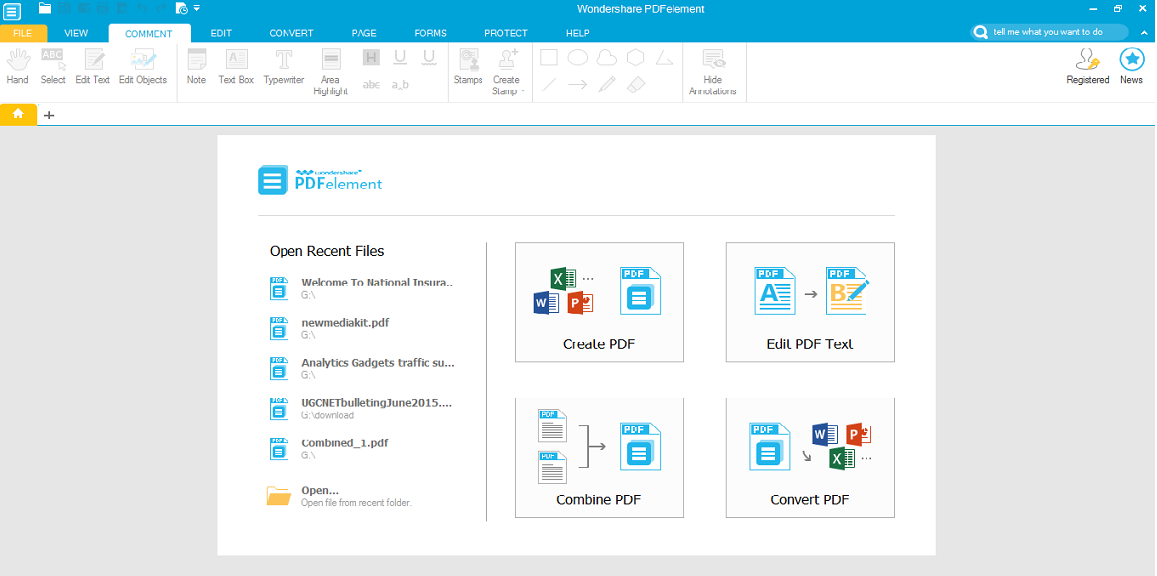 We reviewed Wondershare PDFelement with OCR Plug-in and found that it is really a wonderful product for PDF editing and creating.
INSTALATION:
One can download Wondershare PDFelement from https://pdf.wondershare.com/ and install in their systems. Trial version is also available with limited feature but we recommend you to go with full version to use all features. It also has application on Google play. So, you can also use it in your Smartphone.
For using OCR feature with PDFelement, you need to buy full version. You cannot use this feature in trial version of the software. After registration for the full version, one has to download and install OCR-plug-in. Once the process will complete you will find that the combination of Wondershare PDFelement and OCR plug-in awesome.
The trial version of the Wondershare PDFelement has limitation for conversion of up to 5 pages only and convert document has watermark on it. With the Premium Permission of software, anyone can use unlimited conversions, no watermark, OCR Plug-in and technical support. So, if you are using it for your business, you must go with full version.
PERFORMANCE AND COMPATIBILITY:
The Wondershare PDFelement works well with windows 7 and 8. We didn't try it with windows 10 yet but company confirms that it works fine on Windows 10 too.
We did not find any kind of fault or lag or hanging on system with 2GB RAM windows 7. Its hardware requirement is also very minimal. Large file can also easily import and converted flawlessly. All total it has good performance.
FEATURES:
The Wondershare PDFelement is like an expert in PDF conversion having all features related to it. One can easily learn to use it in everyday personal use as well as office use.
Some of its features are as follows:
PDF Editing: With the help of Wondershare PDFelement you can alter the text, type new words, change fonts of written text, Increase size of text without any kind of issues. You can add links, images, object etc. with this software.
Optical character recognition (OCR) plug-in: This OCR technology helps in converting scanned image into PDF and edits the text of scanned image. One can also change the text format.
OCR plug-in also support multiple languages including English, German, Russian, Spanish etc.
Password Security: One can add passwords in PDF documents and make them secure.
PDF conversion: The PDF conversion of the Wondershare PDFelement helps in converting PDF into word, excel, text, image, RTF, HTML and Epub.
Media features: Adding image to the document is one of its features. One can also take snapshot, header&footer  and add watermark with the help of Wondershare PDFelement.
Annotation: Comment, explanation, presentational markup with PDF documents are easily handles with Wondershare PDFelement.
Redaction of PDF files: One can add text from multiple sources into one document or can combine two or more document into one or split one document into parts with the help of Wondershare PDFelement.
Digital Signature option: Option of digital signature is also there. You can also add hand written signature in it.
Dropdown, radio button, list box etc. options: One can add Dropdown, radio button, list box into PDF and make use of customize field options.
OUR VERDICT:
Using Wondershare PDFelement and OCR together is easy. Beginner as well as professional both can use this software easily. Its basic and advance both features are helpful and powerful. One can edit, create and work on PDF easily with the help of Wondershare PDFelement.
Software is compatible with any windows version and helpful in day to day uses. You can also download it for Mac and Android.
We had good experience with Wondershare PDFelement and we will recommend you to go for it if you are working with PDF conversions and editing.