Delete Sent Messages Using Strings Messaging App
Have you ever regret for sending embarrassing messages? If yes, then we would be feeling bad for sending such messages and we do not have any option to remove those messages from the devices or mobiles which have received those messages. But, those days are gone. Now, you can remove or delete such messages right way. Strings Messaging App is the one developed by Be Labs located at Seattle which allows you to delete sent messages. As of now, it is available only for iOS users.
 Strings Messaging App allows you to have the total control on the content or conversation which you had. This brings the new way to communication through texts. It is similar to normal texting but through Strings Messaging App. Person with whom you want to start the conversation with also need to have the Strings Messaging App. You can add friends, relatives, colleagues and many more. Founder of Be Labs, Edward Balassanian stated "Strings was born out of a need for a better way to communicate".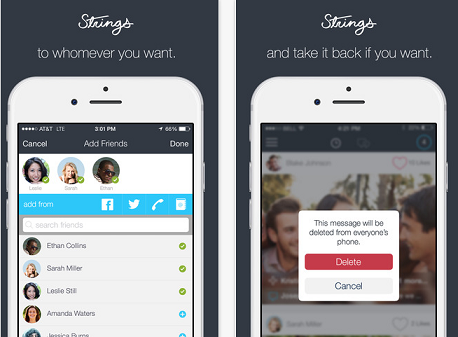 In order to start the conversation, you need to select the one to whom you want to send the message. You can send rich media like photographs, videos and more. You can have conversation with the same person on different topics and each message in the conversation is called a String. If you want to delete sent messages, you can select that particular message and then delete it. Sent message will be removed from your phone and also from the recipient's phone whomever it is with.
That deleted message is not available with anyone from now on. If your recipients want to download photos or videos which you have shared with them through Strings Messaging App, your approval is needed. If they want to share that media with others, your approval is also needed there. So, total conversation is under your control. It is done with beta testing.
Please, do share your views with us on this new Strings Messaging App which allows you to delete sent messages through comments.
Source: Huffington Post