Kingston Datatraveler Locker+ G3 [Review]
Kingston announced DataTraveler Locker+ G3 USB flash drive back in January. This USB flash drive is designed for data security. All the data stored in the drive will be password protected. So, it is only you who can access the files stored in it. It is best for officials who want to share data in secure manner. In this post, we are reviewing the device. We have a 32 GB DataTraveler Locker+ G3 in our hand.
Design:
It has a metal casing body with a built -in key loop at bottom. You will get a key ring with the USB flash drive. You can add that keyring in the drive. It has dimensions 60.56mm x 18.6 mm x 9.75 mm. At one side, it has a light indicator.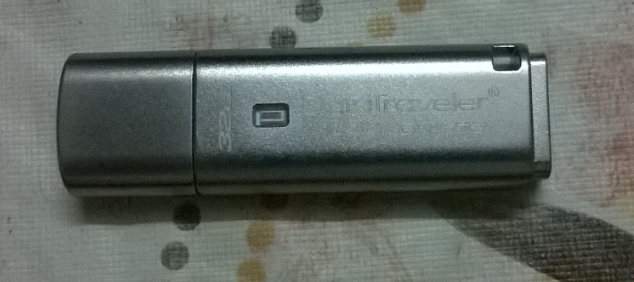 Supporting Operating Systems:
It supports all available version of Windows operating system (include Windows XP, Vista, 7, 8, 8.1 and RT) and Mac OS X. Linux users cannot use this flash drive.
Kingston DataTraveler Locker+ G3 Software
Once it is connected with the system, You will see something like the below screenshot.
Open the drive and you will see few files already there.  Launcher file is the main file which will be used every time you want to access the file in the drive. There is also a PDF manual for the instructions.
When you first run the file, it asks you to set up a new password.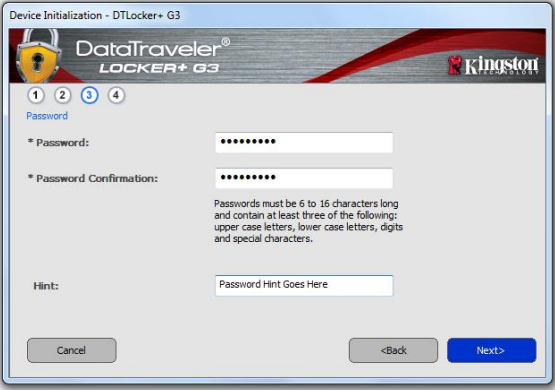 After creating the password, it will create a new partition which you can use to save the files. Here save all your files which you want to be protected.  After saving all important files in the disk, unplug the device.
Next time when you will plug the USB drive again, you will have to run the launcher file again. But this time, it will ask you to login with the password you created earlier.
If you login successfully, you will be able to access all the files stored in the disk.
Data transfer speed:
If you use it in USB 3.0 Port, it offers 135MB/s read and 40MB/s write speed. But in USB 2.0 port, it offers 30MB/s read and 20MB/s write speed.
I was also getting the similar speed.
After spending few days with this USB flash disk, I am impressed with it. It has solid build with a place for key ring. Software is simple and any one can use it without any problem. All you need to do is insert the drive, run the software and enter the password.
If you try to access it with 10 failed attempts, it will wipe itself. If you usually forget your password, this can create trouble for you and you can accidentally wipe your data. So, always take care of this.
Since the DataTraveler Locker+ G3 focuses on the data security, speed of the drive is not as good as we expect for a USB 3.0 drive. In the benchmarking test, speed was around 100 MBPS at its maximum speed. But this speed is satisfactory for an encrypted USB drive.
Overall performance is good. You can try this USB flash drive to carry your data in secure way.
Watch Unboxing and Hands on video