Huawei Ascend Mate vs Samsung Galaxy Mega 6.3 [Comparison]
Today,Huawei has launched its new big screen smartphone Huawei Ascend Mate in India. It has 6.1 inch HD display. This smartphone is being compared with Samsung's recently launched Galaxy Mega 6.3. In this post, we are going to compare features of both smartphones.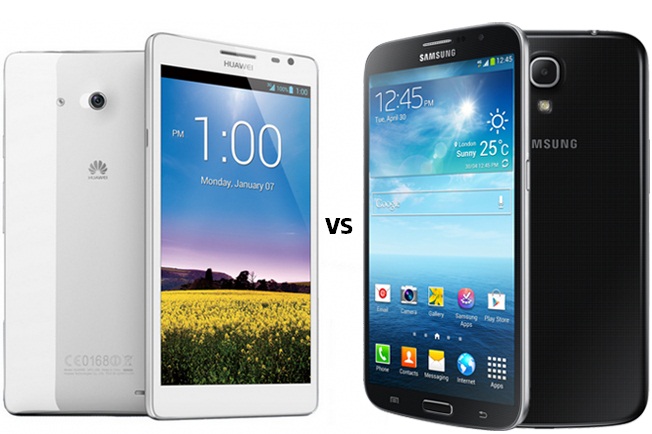 Huawei Ascend Mate is powered by a 1.5 GHz quad core processor while Galaxy Mega 6.3 has 1.7 Ghz dual core processor. It means ascend is more powerful than Galaxy Mega 6.3. Ascend Mate has 2 GB RAM that is more than Galaxy Mega's 1.5 GB RAM.
Galaxy Mega 6.3 has larger display by 0.2 inches but both has full HD display. Ascend Mate has 6.1 inches LCD display and Galaxy Mega 6.3 has 6.3 inch TFT display. Galaxy Mega 6.3 comes with 16 GB internal storage but Ascend mate has only 8 GB.
Ascend Mate has 4050 mAh battery that is more than sufficient. Galaxy Mega 6.3 is packed with only 3,200 mAh battery.
See the table below for better comparison.
Huawei Ascend Mate vs Samsung Galaxy Mega 6.3 [Comparison]
| | | |
| --- | --- | --- |
| Features | Huawei Ascend Mate | Samsung Galaxy Mega 6.3 |
| OS | Android 4.1 Jelly Bean | Android 4.2 Jelly Bean |
| Processor | 1.5Ghz quad-core Huawei K3V2 | 1.7GHz dual-core Snapdragon 400 |
| RAM | 2GB | 1.5GB |
| Display | 6.1-inches (1280×720 pixels) IPS+LCD display | 6.3-inches TFT (1280×720 pixels) display |
| Memory | 8GB, expandable to up to 32GB | 16GB, expandable to up to 64GB |
| Camera | 8-megapixel rear, 1-megapixel front | 8-megapixel rear, 1.9-megapixel front |
| Battery | 4,050mAh | 3,200mAh |
| Price | Rs 24,900 | Rs 31,490 |
Recommended Videos