With Redesigned Search, Twitter Aims to Help Mobile Users to Find Relevant Tweets And People
Twitter has just updated search feature on Android, iOS and Mobile web. Now company claims to offer relevant search experience. Twitter says that this updated search feature will help users to find relevant tweets, people and trends in a single stream.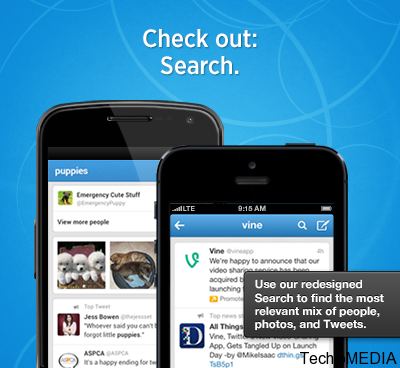 "Today we're updating the Android and iOS apps, as well as mobile.twitter.com. This release provides a single stream of content in each tab, so you can better find what's most important to you when you're on the go," Twitter posted in blog.
One important thing added after this update is a new search button in iPhone. This was already available in iPad and Android apps.
To open a link in a tweet, now you don't need to do any extra tapping. You can directly go to the link in single tap. "Click a URL in a Tweet to go directly to that website from any timeline and get to content highlighted on Twitter faster. (Previously, when you tapped any part of a Tweet, it would first expand and then a second click was required to get to the website,)" Twitter added.
"Search results now surface the most relevant mix of Tweets, photos, and accounts, all in one stream (similar to the stream in Discover)," Twitter says.
Do you like these changes? Share your views about this new search feature with us.