Microsoft Security Essentials Tops Popular AntiVirus List
Microsoft Security Essential is ranked at number 1 in the most popular Antivirus list with 15.3 percent market share.
According to Antivirus report by Opswat, Microsoft security Essential is growing and now it has reached to 15.3 percent market share. It has seen 2.3 percent growth in past 2 months and is most widely used Antivirus globally.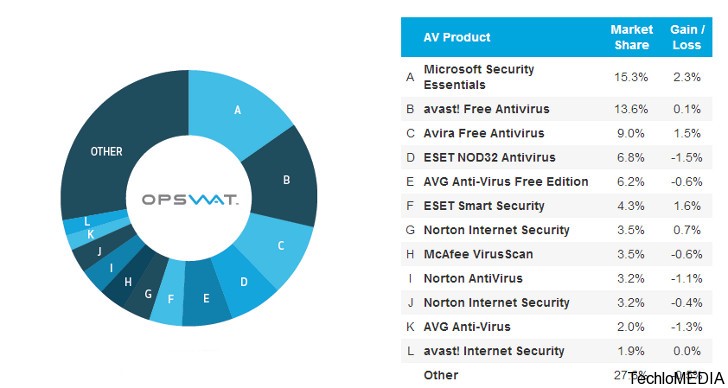 Avast Free antivirus managed to get second place with 13.6 percent market share. Free antivirus Avira managed to get third place with 9 percent followed by Nod32 that has 6.8 percent market share.
"Microsoft Security Essentials is the top product worldwide. With a 2.3% increase for a total of 15.3%, the product has overtaken avast! Free Antivirus as the world's most widely-used product," the report reads.
If we could remember, Microsoft security essential failed in a recent Antivirus test and couldn't get certification. But it remains popular just because is free and is the product of Microsoft. People still trust on this because they trust on Microsoft.
We can clearly see the top antivirus products are those which comes for free. This report shows how people do not want to spend on their online security and use free products.