Nokia Lumia 710 Gets Price Cut, Now Only for Rs 12,999
Nokia has just reduced the price of its Lumia 710 in India. Now the smartphone is available for Rs. 12,990 while it was launched for Rs.19,000 in India. It has already got two price cuts in recent months and has been recently sold for Rs 14,699.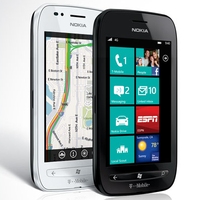 Nokia has taken this step just before the launch of Nokia Lumia 620. Lumia 620 is a budget friendly smartphone that will be soon launched in India. Nokia does not want to two smartphone in the same price range to confuse customers.
Read: How to hard reset Nokia Lumia 710
Nokia Lumia 710 runs on Windows Phone 7.5 and is expected to get Windows Phone 7.8 soon. It is powered by a 1.4 GHz processor. It also features a 3.7 inch TFT CBD display.
Key Features of Nokia Lumia 710
Windows Phone 7.5 (Mango) OS
3.7-inch TFT Capacitive Touchscreen
1.4 GHz Scorpion Processor
5 MP Primary Camera
HD Recording
Wi-Fi Enabled
Micro SIM Feature
See Full specification of Nokia Lumia 710