Samsung's Android Market Share is Now 46%
Millennial Media has published a new report on Mobile trends for 2012. This report comes with some surprising facts. According to the report, Samsung's Android market share for Q3, 2012 is now 46 percent while it was only 23% in Q3, 2011.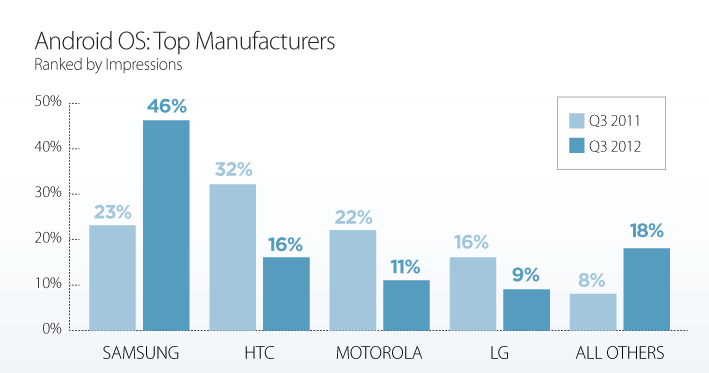 Last year, HTC was leading the market but it has only 16 percent market share now.
"Samsung has always been a major player in the Android market, but in the last year, they saw a large shift in market share. In Q3 of 2011, Samsung held 23 percent of the Android impressions on our platform, while in Q3 of this year, they held 46 percent. Samsung is now 30 percentage points ahead of the second leading Android manufacturer, HTC," Report says.
This report also revealed some interesting facts about the mobile world. It says that iPad mini is growing fast by the rate of 28 percent per day. Original iPad is also growing along with iPad Mini.
Samsung galaxy S3 and Galaxy Note played an important role in the Samsung's growth. These two smartphones created several milestones. Galaxy S III sold over 30 million devices through November only in 5 months.
Samsung recently launched Galaxy Note 2 and reports says that it is working on Galaxy S4. Samsung is growing very fast and heading towards Apple. It is now competing with Apple to be the number 1 in market.
Recommended Videos