[Reports] Apple, Intel Working on Bluetooth Smartwatch
According to few reports, Smartphone giant Apple and largest chipmaker Intel has teamed up and working on a smartwatch. This may be a bluetooth enabled watch and will run on iOS. It will featuers a RiTdisplay with a 1.5-inch OLED screen.
If you are thinking that Apple's next product will be iPad Mini 2 or iPad 4, it may be wrong. This new smartwatch is expected to hit market as early as first quarter of 2013.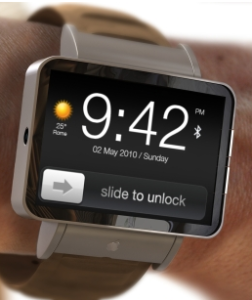 This smartwatch will be able to play music, display photos, and keep track of your fitness history. We can expect much from this smartwatch. This product will get instant attention of geeks.
If you are thinking that smartwatch is really a smart concept, you must know that Sony has already launched smartwatches in the market.
This report is basically based on a blog, Tech163.com and it is only a rumor. There is nothing confirm. We are trying to get more details of this watch and will let you know when we get anything interesting.