Redesigned Bing Image Search Officially Launched
Microsoft has just released the updated version Bing Image search with new user interface and several search tools. This new Bing image search is faster and loads images faster.
"Starting today, we're rolling out a brand new way to make it faster or more simple to explore imagery on Bing. Now when you click an image, we don't waste your time loading a new page or force you to dig through a bunch of clutter. The new design loads quickly placing the image center stage," Microsoft posted.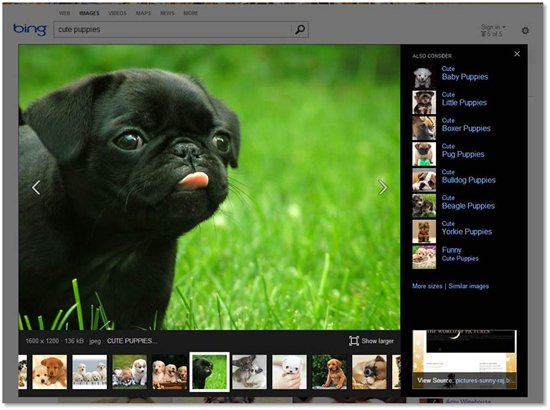 It loads image preview on mouse over the search results. While clicking on the search result, it opens the new page with image and some related search terms at the right. It also has a left and right arrow buttons to see next and previous search results.
As claimed by Microsoft, this new layout is really faster. I was surprised how quick it loads the preview of search results in pop ups.
"The new design doesn't just look great – it's also much faster. We rebuilt our viewer from the ground up focusing on speed improvements so you can see a picture immediately, without wasting time waiting for the page to load. And when you want to go back to your results, just click the X to close it," Microsoft also added.
If you use Google images for image search, I will suggest you to give Bing search a try. Do not forget to share your views with us.