Samsung ChatON to Get Video Call Soon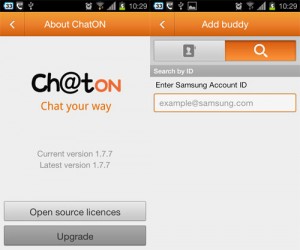 According to Korean DDaily, Samsung's instant messaging service ChatON will soon get video calling feature. This feature will work both on Wi-Fi, 3G and 4G internet connections. We can expect this service as FaceTime on iOS 6.
ChatOn service launched almost a year ago for Samsung's bada platform as an alternative to Rim's BBM. It allows users to chat, group chat, file transfer over wi-fi and 3G network. Later this service was released for few more popular mobile platforms.
This time ChatOn is available for Android, Bada, iOS, Windows Phone and BlackBerry. But this new feature is expected to hit Android devices first.
It will be interesting to see how this new feature will perform because there are already similar kind of apps available. Fring is also providing same feature on smartphones for years.
At last, i want to say one thing. This is not the official announcement, so do not get too much exicted. We will have to wait for few more days to get more about this.