SanDisk launches "fastest microSD card in the world"
Yesterday, SanDisk has launched a new range of products which includes high speed memory card and USB pen drives. These devices include four USB flash drives and a memory card. The four USB flash drives are SanDisk Extreme, Cruzer Glide, Cruzer Facet and Cruzer Pro. The fifth product, SanDisk Extreme Pro has been labelled as the fastest microSD card in the world.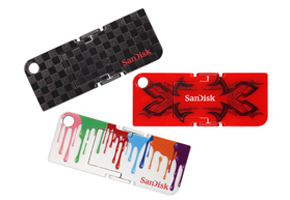 SanDisk Extreme Pro: SanDisk Extreme Pro microSDHC UHS-I card is claimed to be the world's fastest mobile memory card. According to rumors this memory card will hit the market by the third quarter of 2012 and in 8GB and 16GB storage capacities. The 8GB model will be priced at Rs. 2,599 while the 16GB model will be available for Rs. 4,699.
SanDisk Extreme: SanDisk Extreme is claimed to be the fastest USB flash drive launched by SanDisk. This flash drive is USB 3.0 enabled while most of the available pen drives are powered by USB 2.0. This pen drive  can transfer and store files with a speed of up to 190MB/seconds. It means in takes just few seconds in data transfer. If we calculate the exact transfer value, 3 GB file will be transferred on this pen drive in just 20 seconds and a 40 GB would take about four minutes. The SanDisk Extreme USB flash drive is available in 16GB, 32GB and 64GB variants, with the prices ranging from Rs. 1,651 to Rs. 5,189.
SanDisk Cruzer Glide: SanDisk Cruzer Glide is the highest storage capacity USB flash drive by SanDisk with a capacity of 128GB. The drive is available in 4GB – 128GB capacities priced between Rs. 301 to Rs. 6,161. SanDisk also offers a five year limited warranty on this flash drive
SanDisk Cruzer Pop: The Cruzer Pro is the thinnest USB drive in SanDisk's product range. It is 4mm thick and will be available in three colours. It is available in 4GB -32GB capacities and its price ranges between Rs. 259 – Rs. 1,406.
SanDisk Cruzer Facet: SanDisk Cruzer Facet is a USB flash drive with a stainless-steel casing designed with a faceted texture. The drive is available in various colours and comes in 4GB-32GB capacities. The prices for the same range from Rs. 283 – Rs. 1,448.
Along with these devices, SanDisk also introduced the SanDisk SecureAccess software that allows encryption and password protection for selected files on the USB drive.