Sandisk launches Cloud storage management app
Sandisk which is known for its storage devices, has now jumped into the smartphone application market with its first app called Sandisk Memory Zone. This Android app allow users to manage all their cloud services account from one place.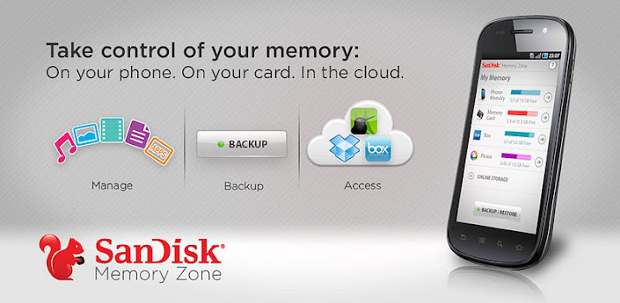 With Sandisk Memory Zone, you can manage files on your cloud storage account and take backup on your tablet or smartphone. You can also move files from your device to the cloud storage and vice versa.
This app supports most of the popular cloud storage services including Box.net, Dropbox, Google Docs, Picasa, SugarSync, SkyDrive and Facebook. But Apple Microsoft's skydrive is missing in the list. I hope they will add Skydrive in the list soon.
SanDisk Memory Zone not only allows you to transfer and back up your files, it also allows you to secure them through a password protection feature. So you have the peace of mind knowing your videos, photographs, music and other files are not only available, but they're available only to you.
This app has a nice simple and easy to use interface which allow users to work fast on the app. So users can manage all their files easily on the cloud.
There is no cloud storage service of the Sandisk and i do not think company is planning to launch any. This app is just make the file management work easy and bring all cloud storage at one place.
Interested users can download and install this app on their Android smartphone from Google Play Store.