ESET releases mobile security app for Android
Security Giant Eset has released a new mobile security app for Android devices. This app aims to protect both smartphones and tablet users from many type of internet threats and give a safe mobile experience.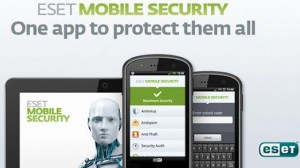 For past few months, Android malwares and infection have been iincreasing so security companies now focusing on Android devices. These type of security apps are really needed as data is always on the risk while using smartphones.
This app comes with advanced protection technology which protects users against malicious links and malware hidden in applications.
Its Anti-Theft feature helps you locate or block access to your device in case it is lost or stolen. You can control your stolen device just by sending a SMS. You can also protect data on your stolen device just by sending SMS. It will lock your smartphone after receiving SMS command. You can also delete messages, contacts and erase all data on memory card. It will also start tracking your device on GPS by a remote SMS command..
Other features of this security app includes:
Anti-Malware Protection: scans all downloaded and accessed applications and files for malware.
Security Audit with Built-in Task Manager: monitor vital phone functions, including battery life, free disk space, running processes, Bluetooth and device visibility.
SMS/MMS Antispam: Block SMS/MMS messages from unknown numbers.
Call Blocking: block unwanted incoming and outgoing calls.
Program interface localized in 25 languages: English, Polish, Danish, Finnish, Norwegian, Japanese, Russian, Hungarian, Spanish, German, Portuguese Brazilian, Dutch, French, Romanian, Turkish, Swedish, Chinese Simplified, Chinese Traditional, Italian, French Canadian, Korean, Spanish Latin, Czech, Hebrew and Slovak
Some features are not available for tablets which do not support calling and messaging.
This app is not for free and is available for $9.99 (for One year license). There is also a 30 days trial version available of the product which can be upgraded to full version through an In-App purchase. The app now also supports Android 3.0 and 4.0 and gives a longer battery life through faster scanning and optimized performance. You can download and install this app from Google Play Store.
Recommended Videos