Sony Develops New "RGBW Coding" and "HDR Movie" Functions
Sony Corporation has announced to launch the development of two CMOS image sensor models designed for use in smartphones and other devices.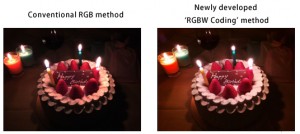 Today, Sony announced that is has developed two CMOS image sensors to be used in smartphones and tablets. These sensors are equipped with Sony's unique "RGBW Coding" function which allows devices to capture images with low noise and high picture quality even in low-light conditions. These also contain Sony's "HDR (High Dynamic Range) Movie" function which allows brilliant color to be captured even in bright settings. Sony has also developed a model with built-in signal processing functionality, an element that usually requires external embedment.
After the development of these sensors, smartphone cameras will also give the same picture quality which we get from high quality digital cameras.
Read More about these technologies in Sony Press Release.
Recommended Videos