Nokia unveiled Nokia X2-02, music-centric dual-SIM phone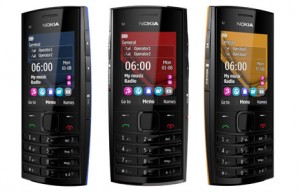 Nokia has unveiled an affordable dual-SIM handset centered around music. This phone looks like Nokia X2-05 but have dual sim feature. This phone comes with easy swap dual sim so you can change sim card without restarting the phone.
This dual sim device is dual sim dual standby (not dual-SIM dual-active). It has only one transceiver so you can use only 1 sim at a time.  This also makes battery life better.
This phone has 2.2 inches 240×320-pixel display and features a 2 MP camera. It has dedicated MP3 player, music controls and built-in loudspeaker. It also have an internal antenna so it can play radio without plug in headphones.
This is a serie 40 device with facebook and twitter pinned at home screen. The X2-02 battery life is quoted at 18.5 days on standby, while talk time stands at the respectable 9.7 hours.
The device status is coming soon and tagged with the price $80.