Google updates Gmail app for iOS, adds scribbles, a doodle painting tool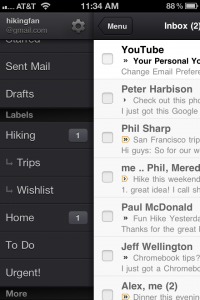 Last month, Google has launched its first ever Gmail app for iOS devices which was in news due to its bugs. Then Google had puuled back and then releases a bug free app. This time company has updated the Gmail app for iOS devices with few new features and some bug fixes.
The new app added custom signatures and a vacation responder. With this, user can not add personalised signatures to outgoing mails and can set a auto response to tackle mails if the user is not available.
Google wrote,"We've added the ability to set a custom signature for your mobile messages and a vacation responder, both available through the gear icon at the top of the menu view. We've also improved labels with support for nested labels:"
"We've also got another fun feature to make your language even more colorful (in a good way!). In the Gmail app and Gmail for mobile you can now open up a canvas and scribble a message that will be attached to your email. It's perfect for sending a quick sketch that is hard to express in words or adding a fun graphic to make your email more personal," it added.
Google also added Scribbles in the app which allows users to scribble something on the screen and then send it as an attachment to the email.Scribbles support different colors, brush sizes, lines, erasers and spray paint.