'Pure white' BlackBerry Bold 9900 now in India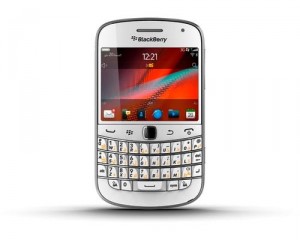 Research In Motion (RIM) launched its Pure White BlackBerry Bold 9900 smartphone in India.
The sparkling white phone BklackBerry Bold 9900 is available at a price tag of Rs 33,360. It has built-in support for NFC (Near Field Communications), a new technology that is enabling many new and exciting capabilities, including the ability to make mobile payments, pair with NFC-enabled accessories or read SmartPoster tags with a simple tap of the smartphone.
Features of Pure White BlackBerry Bold 9900 smartphone:
the sleekest BlackBerry phone at only 10.5 mm,
5MP camera onboard capable of 720p HD video recording,
3G/Wi-Fi system/GPS/Bluetooth/microUSB,
an optical trackpad,
a document editor 8GB of built-in storage space.
a 1,230 mAh battery, which is rated to deliver 6.5 hours of talktime.
operates on BlackBerry 7 OS,
single-core 1.2GHz processor
768MB of RAM.