Recently, Tata Sky launched its new subscription plan . I have been Tata Sky HD users for past few months but the recent Tata Sky+ Transfer attracted me because of its transfer and carry features. Various DTH providers offer recording feature but ability to transfer your recorded movies and TV shows to smartphones and carry with you is awesome.
Tata Sky+ Transfer
To use Tata Sky+ Transfer, you will have to upgrade your subscription. It requires a different set top box that comes with Wi-Fi dongle. Price is Rs 9300 for new users and Rs 7890 for existing Tata Sky customers. The Wi-Fi dongles connect the set top box with your Wi-FI network. You also need to install Tata Sky Mobile app to access the Set top box content direct from your smartphone once the set top box and mobile both are connected to the same wireless network. You will have to register your device to use the STB and only registered devices can use this service. This app is currently available for iOS and Android users.
Up to 50% off on Hard Disks
Up to 50% off on Hard Disks and storage devices
Set Top Box
Set top box is bigger. At the right side, it has an option to connect Wi-Fi dongle.Set top box has the storage capacity of 500GB.
Remote:
It has a different bigger remote. This remote can also be used as a universal remote for television. You only need to press 'univ' button to use it as universal remote. In the universal mode, you will see red light at the top notification light.
Tata Sky Mobile app
Tata Sky Mobile app is available for both Android and iOS. Mobile app basically offers 4 options:
Everywhere TV: This option requires activation. You will be able to watch live TV everywhere direct from your smartphone.
Transfer: This option lets you transfer your recorded TV shows or movies from set top box to your smartphone. This is one of the most useful features I feel, as now people on the go can watch the content they've recorded on the smartphone, anytime, anywhere! I think it will be really useful for those with a long commute or those who travel for work of pleasure. Any time they are in need of entertainment, they will be able to watch shows of they've recorded and may not, otherwise get the time to see.
Remote Record: Remote record is the option to schedule a recording from your mobile phone.
Wi-Fi remote: This option lets you use your smartphone as remote for your set top box.

1. Everywhere TV:
It requires an activation. So, you will have to contact Tata Sky to active this. Once, you have opted for this service, you will be able to watch live TV on your smartphone. Your TV experience will be awesome if you have a phone with large and good display.
2. Transfer:
This is the main feature of the service and this is why company calls it Tata Sky+ Transfer. In this section, you will see three tabs: My box, My Phone and Transfer Q. My box displays recorded content stored in your Set top box. My Phone section displays the content you transferred in your phone. Transfer Q section displays all the items currently being transferred to the smartphone from STB.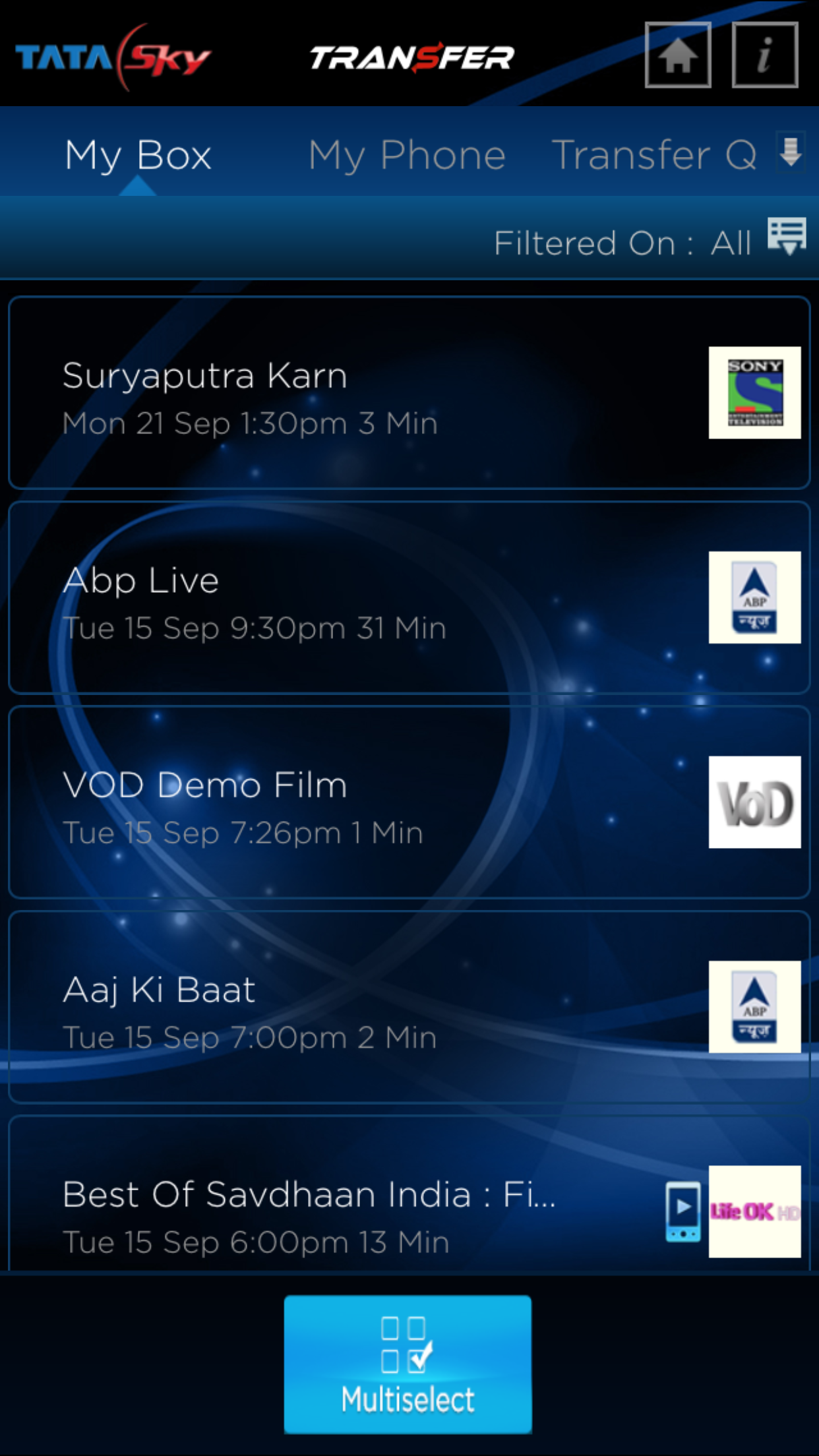 I want to confirm that transfer process is made of two different steps: Preparing and transferring. Both steps take time and it may be longer if recording is long.
3. Remote Record
This section is also interesting. You can schedule a recording direct from your mobile app. But your set top box must be switched on.
This section has three different tabs to control the set top box direct from this mobile app. It has Gesture remote, Quick Remote and Full remote. You can use any of these to control your TV content from your smartphone. You can change channel, increase. decrease volume, play, pause and more.
This remote connects with STB via wi-fi. So, you can perform actions from different room.
Here are some of the benefits:
I think the fact that it transfers over WiFi to any device is a great feature and one that is most economical.
The storage capacity of the box is 500GB which means you will have the time to collect a large number of shows and watch it whenever you have time.
It's great that it can simultaneously record while you watch another program and if you're not watching anything, you can record on two channels.
The 'Watch now' option on the app is a super innovation as it enables you to stream anywhere directly from the set top box.
My Verdict:
I am impressed with the service Tata Sky is offering in this subscription. It is costly but worth for service in offers. I am not satisfied with this mobile app. It seems to be in very early stage, so layout is pretty basic. Company could make it better.I expect company to improve in next update of app. But there is no issues in functions. Everything is working pretty fine. So, you will not miss your favourite TV shows. Record and transfer on your mobile to enjoy on the go.
---
Advertisement
The Review
Tata Sky Transfer+
"It is costly but worth for service in offers. I am not satisfied with this mobile app."
The Good
High storage capacity
Wi-Fi connectivity
Breakdown
Design 60%

App 50%

Services 80%

Value for money 60%