Evolution of Android : Android 1.0 to Android 7.0
Android is the most popular mobile OS around the globe. Android is developed by Google and is based on Linux Kernel. Initial release of Android was way back in 2008 and in past 7 years, we saw 7 major releases of Android OS.
Now that Android 7.0 Nougat is out, we take a trip down the memory lane of Android's OS over the years. Buckle Up, as it is gonna be one sweet ride! For those who aren't aware, each version is named in an Alphabetical order after a Candy or Dessert.
It all started in 2008 when HTC Dream came out with a new Operating System, Android. This OS supported GPS, Bluetooth and was capable of Multitasking. Although it was very basic, many of those features still exist.
It was closely integrated with Google Services such as Gmail, Google Maps, and YouTube. It offered an 'Android Market' which initially offered 35 apps. Although no particular name was given, Android 1.0 is known as the Alpha and Android 1.1,a small update, is know as Beta.
Android 1.5 which came out in April of 2009, saw the beginning of the Candy or Dessert based OS names. Cupcake brought in a Universal Search Box along with Widget Support.
The cupcake was also the first OS to flaunt Virtual Keyboard. The GPS was tweaked to be more accurate and fast. Auto Rotation of Screen and Animated Transitions were seen on this OS. There were new features in camera too, Photo Gallery and Camera was now integrated and Users could now toggle between photo Mode and Video Mode.
Cupcake's Successor, Donut came out in September 2009 brought few nifty changes and functions. It was the first OS to have the Quick Search Box making information search convenient.
Donut allowed Android to run on devices with different screen resolutions, earlier it was restricted to phones with a display of 320 x 480.
It was after this Update the Android Market gained its pace and was redesigned completely, sporting a diverse catalog with tons of apps.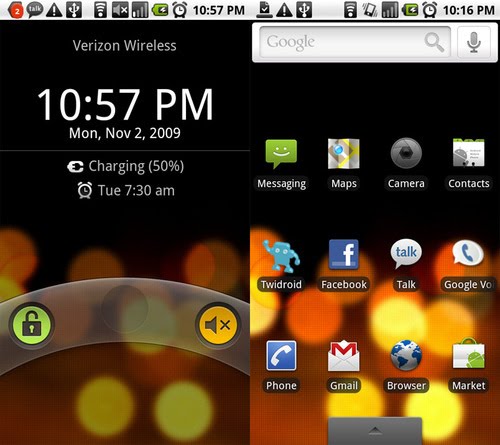 Android Eclair came out the very next month Donut was rolled out and had significant changes. The Google Maps Navigation feature found its place in this OS update and to date remains the quintessential feature of Android. It allowed Turn by Turn Navigation and included Voice Guidance and traffic info.
Another defining feature of Clair was the Customisable Home Screen. Users could choose their custom ringtone and widgets. Folders were available and you could move them across multiple Home Screens. Live Wallpapers were introduced through this OS.
Also, for the very first time, Speech to text was possible. Éclair enabled users to use their voice to type on the keyboard.
And then came Froyo in 2010 with a faster OS. It also brought along the 'Portable Hotspot' feature, which turns your phone into a WiFi hotspot on the go.
Voice Actions were taken to the next level as you do more functions with this feature. Users could now set an alarm, make notes, get directions and more just with their voice.
Users could now install apps on the Memory card. The OS also supported Multilingual Keyboards and Adobe Flash 10.1.
Probably one of the biggest success of Android, Gingerbread came out in December 2010.
All the selfie lovers gotta be thankful to Gingerbread as it supported front facing cameras. NFC, Gyroscope, and Barometer was made available in this OS.
Another major feature of Gingerbread was the gaming APIs. Gingerbread allowed developers to build graphic intensive 3D games.
Gingerbread was also the first OS to have Android's Easter Eggs.
Honeycomb is the only OS which was developed specifically for tablets. It optimized the interface for larger screens whilst improving Multitasking, Home Screen customization and adding Bluetooth tethering.
Also, Honeycomb enabled on-screen navigation buttons instead of physical buttons.
Android 4.0 Ice Cream Sandwich: 
Android 4.0 offered more customizing options more than ever before. Apps could now be put in folders, widgets could be expanded or shrank and so on.
Chrome finally found its place in Android through this OS. Face Unlock was another nifty feature alongside the ability to hide unwanted app icons. Cameras could now have Face Detection feature.
Android Beam, considered as a game changer at the time, was introduced. It allowed two phones to share content via NFC simply by touching them.
With Jelly Bean, android was faster, smoother and much better, thanks to its 'Project Butter'. The OS was more responsive than it ever was.
Google Now was launched on this OS. Google Now enabled users to get quick information at the right time. Also, Chrome was now a default browser.
Lock Screen widgets were now possible and the Expandable notifications provided greater interaction.
The significant feature of Android KitKat was 'OK Google', a voice command to launch voice search, send texts, get directions and more. All you gotta do was just say 'OK Google'.
Wireless printing was now possible, thanks to Google Cloud Print.
The size of this OS was shrunk so that it can run on low-end devices.
Android L brought in a humongous UI change and called it 'Materialistic Design'. It stated that 'Material Design' was based on shadows and motions.
Heads Up/Floating Notifications, Battery Saver Mode, Priority Mode Notifications, Multiple user access for devices and Smart Lock are few of the many features of Lollipop.
Released last year, Android M was the first OS to support fingerprint sensor and USB Type-C. It also had a redesigned app drawer and Android Pay feature.
Resources were put to improve battery life of the device and hence features like Doze and App Standby were added in this OS.
'Now on Tap', another prominent feature was rolled out through Android 6.0. This feature enabled you to get helpful extra info while using your device by just tapping and holding the Home button.
The latest Android OS, Nougat was introduced last month and offers many new exciting features. Android now finally supports Multi Window for a true split screen multitasking experience.
Doze is enhanced and performs much better than in the previous OS. Android N will be boosted with the Vulkan 3D rendering API.
Android has surely come a long way since its inception and we are pretty sure it still has a long way to go. Let us know your favorite Android OS.
Image Source: Gizmodo/Androidpit