After upgrading to iOS 10, Apple users can now do more than just messaging on iMessage. Now, iMessage allows you to send stickers, draw something, play games and install apps to do lot more things.
In this post, we are listing few apps and games which you can try on iMessage. Few apps are
Up to 40% off on camera and accessories
Up to 40% off on camera and accessories
10 Apps and Games for iMessage in iOS 10
1. Words With Friends
Words With Friends is a nice game which you can play with your friends on iMessage. Spell words and solve puzzles with friends Invite your friends to compete against others. You can also play anytime and anywhere with offline Solo Play
2. GIF Keyboard
If you like to use GIFs in conversations, you must try this app. Once you tap on this, you will be able to search for GIFs and stickers to use in conversations. Double tap on any GIF to mark it as favourite for quick access.
Read more: 12 Free and Best Cooking Games for Girls
3. Genius: Song Lyrics + Music Knowledge
This iMessage app allows users to send photos with text featuring lines from their favourite songs. Users can choose from the library of photos. It also allows users to upload photos. The image also includes the name of artist and track so the recipient knows exactly which song the sender is referring to.
4. iTranslate
-
Free Translator & Dictionary
iTranslate is a nice app for people having friends in different countries. This app allows you to easily translate text or even use direct voice translation feature for faster messaging. It supports translations in over 90 languages.
5. GamePigeon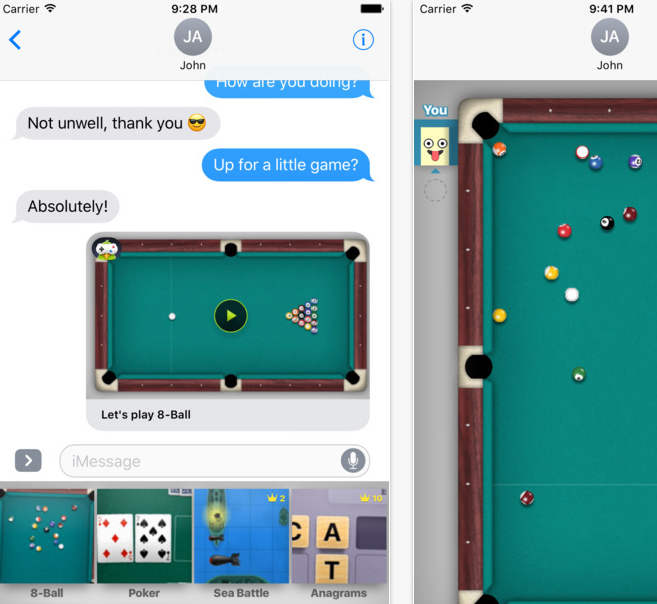 GamePigeon brings a gaming platform into iMessage.ou can play various games with your friends while talking. It includes 8-Ball (Pool), Poker, Sea Battle (Battleship), Anagrams and Homoku games. We also expect more games in coming days.
6. xoxo TicTacToe
I am sure you know TicTacToe. But xoxo TicTacToe is not a simple TicTacToe game. You can play the game with up to 5 players on a grid that be as big as 6×6. To play this game, an iCloud account is required.
7. Checkmate
!
Checkmate! is a chess game to play on iMessage.
8. Circle Pay
Circle Pay is a nice app which lets you send and receive payments direct in iMessage. There is no fees for payments.
9. MsgMe Word Guess
This is a quiz game. Choose a word between 4 and 11 letters for your opponent and start them guessing.
10. 
Checkers
Play Checkers with friends.
There are many other apps and games for iMessage. You can try those apps and get most of iMessage in iOS.
---
Advertisement
---