Dropbox is a cloud service which can be used to upload files, photos and all the required data that can be accessed anywhere from any device and at any time. This is the shared location which can be accessed by everyone through their individual accounts. We may receive some important files as attachments through emails and we want to upload them to our Dropbox account, so that we never lose them. But, we need to download the file first, login to our Dropbox account and then we need to upload it to the cloud.
But, have you ever thought of any security concern? Suppose, you were in a place where you are not confident about the security of the downloaded data, then it would be risk to download file and then uploading to cloud. So, no need to worry from now, if you come across this situation. Now, you can send files directly from an Email to your Dropbox account using "Send to Dropbox" plug-in. This is free service and also easy to use.
Up to 40% off on camera and accessories
Up to 40% off on camera and accessories
Follow these steps to send files to Dropbox through email
STEP 1: Visit Send to Dropbox and you need to connect it with your Drop box account. Just, click on "Sign in" button.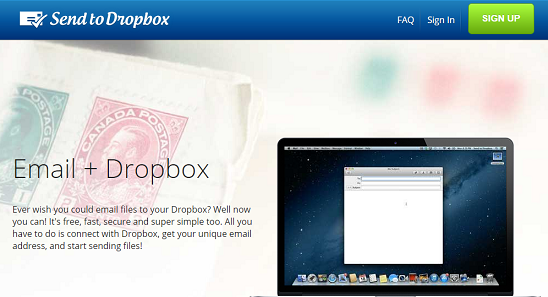 STEP 2: Now, sign in using your Drop box credentials. In order to access your Drop box account, click on Allow button.
STEP 3: Once the process completes, you will be shown Congratulations! message with unique email address.
This is used to send files to drop box account from email. Add this email address to contacts in regular email like Gmail, Yahoo or anything.
This is how your account looks like in Send to drop box.
That's it! Now everything is set. Whenever you want to send any file from your email to your drop box account, then attach that file to the email and send it to this email address. You can see the sent files in your Drop box in Apps >> Attachments location.
If you have anything to add or have you used this before? Please, do share with us through comments.
---
Advertisement
---