Facebook Messenger For Android Gets Update
Facebook has just pushed an update to its Messenger for Android devices. Now this app is able to send and receive the SMS messages along with the regular Facebook Message.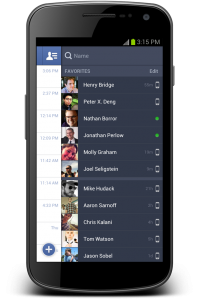 Facebook Messenger app is a standalone app that allows users to access the Facebook messages without opening their Facebook account in Facebook app of web.
Facebook Messenger app also comes with a new design which allow users to quickly see who is online. Swipe your finger to left anywhere in the app and see who is available. You can also add the friends you message most to the top of your Favorites so they're easily accessible.
Now the message conversation also has a new design which is easier and user-friendly. You will feel like you are chatting on your cell phone SMS.
All these features are only available on selected Android devices. So you will need to check whether it is working in your app or not.
The similar kind of update for iOS devices will be available soon.
Source: Facebook Newsroom