Facebook Messenger App Now Available For XP, Vista
Facebook has launched Facebook Messenger App in March, but at that time, App was only for Windows 7 supported and Microsoft said that there was not app for Windows XP users. Now social networking giant has released its popular messenger app for Widows XP and Vista users.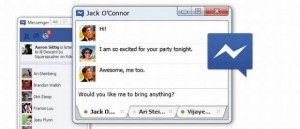 It means users using Windows XP and Windows Vista can now enjoy this messaging app for desktop. This Messenger allows users to chat with their Facebook friends and see notification without going to website. You can also see tagged photos and accept friendship requests. This app always run in the system tray and you will be login as soon as your system is connected to the internet.
This app is also available for all major mobile platforms. Facebook has also been updating this app to add more new features. With this app, you can see which message has been read.
Facebook has a large user base and it wants to keep people on the Facebook. Facebook also revealed that its user base in India has increased from 8 million in 2010 to 50 million now. It knows that adding new exciting things on website is the only thing which can increase users' interest. So it is really important to make these kind of changes and release.
There are many people who still use Windows XP which is the most popular Windows Operating system. So Facebook was forced to release the app for Windows XP users even after the denial from Microsoft 3 months back.