Turing Machine Google Doodle was the thoughest Yet
Yesterday, Google was celebrating the 100th birth anniversary of Alan Turing, British mathematician and the father of computing. On this occasion, Google has rolled out a new Turing machine doodle.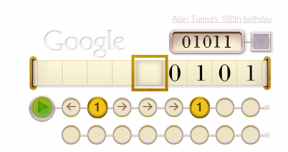 This Turing machine doodle was not for general computer users. It aims to computer science students who has knowledge of computer and turing machine. This was not only a doodle, but a challenge to all users. You will have to solve it.
At any moment there is one symbol in the machine; it is called the scanned symbol. The machine can alter the scanned symbol and its behavior is in part determined by that symbol, but the symbols on the tape elsewhere do not affect the behaviour of the machine. However, the tape can be moved back and forth through the machine, this being one of the elementary operations of the machine. Any symbol on the tape may therefore eventually have an innings.
This doodle was the toughest doodle by Google. Alan Turing Google doodle now overtakes the 60th anniversary of Stanislaw Lem's first publication doodle as the smartest Google doodle till date.