Play "Cut The Rope" On Google Chrome For Free
Google Chrome users can now enjoy popular iOS game, Cut The Rope for free. Its developer ZeptoLab has now announced the game for Google Web Store.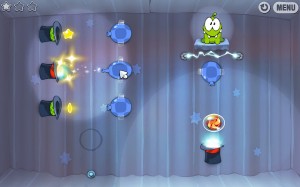 Cut The Rope was first announced in October 2010 for iOS devices and achieved various milestones. With in nine days the game had been purchased one million times and risen to the top of the App Store's charts.
In this game, there is a mad little monster Om Nom. Om Nom was discovered by a mad scientist to study his candy-loving behavior. In this game Om Nom is hungry and we have to help him in finding foods and collecting stars. Game based on logical and analytical abilities with science rules. You will have to face many challenges while feeding Om Nom. Think how to cut the rope in proper manner. It is really an addictive game. If you will start playing this, I am sure you will not end up before finishing all levels.
Add this Game to Google Chrome
Play Cut the rope on Chrome and share your experience with us. Do you like this game? Comment below and let us know your views about the game.