Microsoft Unveils Surface Tablet
On Monday, Microsoft unveils Windows Tablet called Surface. According to Microsoft this new Surface is the reimagining of the tablet. This tablet is designed in the way that it can work as tablet and PC. It also comes two versions. First version runs on Windows RT and Other version runs on Windows 8 Pro.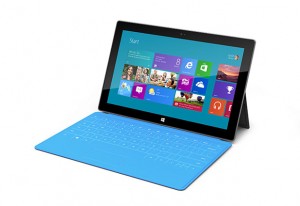 "It was always clear that what our software could do would require us to push hardware, sometimes where our partners hadn't envisioned," Microsoft CEO Steve Ballmer said at the event. "Much like Windows 1 needed the mouse, we wanted to give Windows 8 its own hardware."
Surface has 10.6 inch 16:9 widescreen HD display screen and it is made of Gorilla Glass to prevents scratches and breaks. Both version of tablets also have two full size USB Ports. RT version has a microSD port while Pro version of the tablet has microSDXC port for data transfer.
Surface running Windows RT will be available in 32 GB and 64GB sizes, while Surface running Windows 8 Pro will be available in 64 GB and 128 GB sizes. While no pricing was announced, Microsoft says the tablets will be "priced to competitive rates with ARM tablets."
"With Windows 1.0, we needed the mouse to complete the experience," said Ballmer. "We wanted to give Windows 8 its own hardware innovation. Something new, different, a whole new family of computing devices from Microsoft."
Microsoft also wants to make Windows Phone Operating system popular. It has to fight with Apple and Google to get some market share. Success of this tablet will also attract more manufacturer to make windows Phone devices.