Google Maps Gets Update, Brings Offline Navigation
Google has announced a new update to its Google Maps app for Android which now has offline map feature. This offline map feature will be available in settings menu of Google Maps app on Android.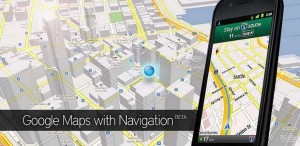 With this, users can save map data of some specific location on their device to access it offline without internet connection. ALthough the maximum save data limit is only 540 MB, but it is enough for normal users. When you hit about 90MB or so of precached area, the app will warn you that's all you can download, but you can save up to six such areas, and 90MB are enough to cover a fairly large city to the street level, for example.
This new feature will only be available to Android devices running on Android 2.2 Froyo and higher. This updated app is now available for download at Google Play Store.
This is not the only mapping app which supports offline map. Nokia maps also has the same feature which allow users to view maps offline through Nokia drive.