Facebook Changed Your Contact Email address, Steps to Change it Back
Facebook has quietly changed the contact email address of all users. Now it shows users Facebook email address in place of Gmail, yahoo or other email address. I used my email address [email protected] on the Facebook, but it is showing my Facebook email address [email protected]
It means Facebook do not want users to contact outside from Facebook. This change was pointed out by a blogger last weekend.
Your other email addresses are also there in the profile, but they are now hidden. You can change it back to show your Gmail or Yahoo email id.
Facebook didn't say why it made the e-mail switch, though it said in April it was "updating addresses on Facebook to make them more consistent across our site."
If you do not like this change, you can reset your profile to show your other email addresses too.
To change this, follow these steps:
Go to your Facebook profile and then to info page.
Now scroll down till contact info. and click on Edit link.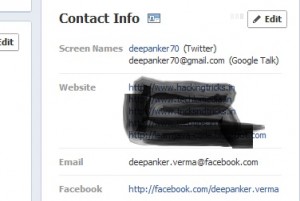 Now in email address, you will see all your email address added in the Facebook. click on small circle in front of the hidden email addresses.
Now change ts to "Shown On Timeline." By default it is "Hidden from Timeline."

Now Your Gmail or other email address will also be there on your timeline.