Draw Something gets Update, New look and new languages
Popular game Draw Something has just received and update for both iOS and Android devices. This update brings new look for game and shop, new words and more languages.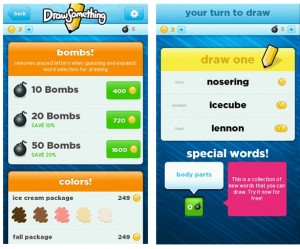 Change in design is not big but noticeable. Those users who play this game regularly will surely find these design changes.
This update also added some special words. Now you can choose what you want to draw from over 30 funny categories. It also added an improved expiration notice.
Draw Something now supports 13 different languages, including Dutch, French, Italian, German, Spanish, Japanese, Chinese, and more. This feature could bring the game popularity in additional countries, which might help its poor standing of late.
Download the new version of Draw Something from iTunes or from Google Play.
Although, Draw something is a new game but it  has received users' attention in short time. Most of the users are now addictive of the game. I have not played the game, so I cannot say why the game is addictive. If you have played the game, share your views about the game with us via comments.