Bing Rolls Out New Image Search
For past few weeks, Bing is working on new design and look to enhance search. In this series, now it has rolled out new image search.
According to company, Bing image search shares 7 percent search share of all Bing searches. Microsoft now want to improve this share with all these new changes.
With this update, Microsoft has improved search suggestion. It also made it easier to filter images by size, color and type. All these changes gives a cleaner look to image search.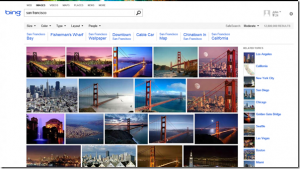 Image search also features larger thumbnails and less whitespace between images, as well as a longer list of related searches, as well as a list of trending searches to the right sidebar.
Below are some of the new features and enhancements according to the official blog post:
Bigger Thumbnails: Now image results shows bigger thumbnails so that you can find exactly what you are looking.
Search suggestion: When you search for something, it will also show some popular related terms to make your search results better. It will also helps you to find what you are looking for.
Filter Bar: Microsoft has also added a filter bar to the top of the search results. This helps users to filter search results on the basis of size, color and type.
See what's hot: Bing has also brought popular trending searches feature to the results page, where users can discover what other Bing users are looking for.
Go and checkout this new Bing image search.