Angry Birds Seasons On Android Gets 30 New Levels
Yesterday, Mobile gaming giant Rovio announced a new update for its Angry Birds seasons for Android devices. This updates arrives as version 2.4.0 and brings 30 new levels to the game.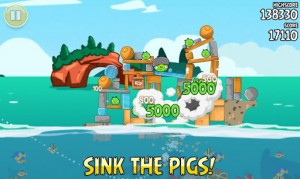 This game also brings many new adventures and features to new levels. It comes with new underwater physics experience.
These are the new features in this version:
Play through 30 ALL NEW LEVELS in the fantastic kingdom of Piglantis!
Delight in the new water physics — hint: pigs sink!
Explore the underwater ruins of Piglantis!
Groove to the aquatic sounds of the lost pigilisation!
"Things work a little differently in this aquatic wonderland — try flinging the birds underwater and see what happens! Think you can defeat the King Pig in his tropical lagoon kingdom?" Rovio notes in app's release notes.