Samsung officially announced Samsung Galaxy S3
Samsung Electronics has unveiled its latest smartphone Samsung Galaxy S3 in London on Thursday. According to the company, this new smartphone comes with larger screen and powerful processor and is ready to fight with Apple's iPhone.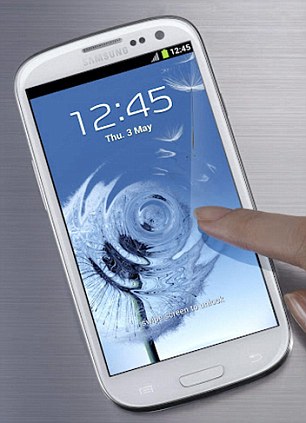 This smartphone runs on Google's latest mobile operating system Android 4.0.4 Ice Cream Sandwich and is powered by Exynos 4 Quad (1.4GHz) processor. It features 4.8 inches Super Amoled HD display and 8 megapixel camera.  It packs a relatively big 2,100mAh battery for better standby and call time.
The Galaxy S III spec highlights include:
a 4.8 inch HD Super AMOLED display
a 1.4GHz quad-core Exynos processor
Android 4.0, Ice Cream Sandwich
an 8MP camera with flash and no shutter lag
a 1.9MP front camera recording HD video
16GB/32GB/64GB versions, memory expandable via microSD card slots (up to 64GB)
136.6 x 70.6 x 8.6 mm, 133g
If we talk about the unique feature of this smartphone, it has the ability to track the eye movement of the user. Samsung calls the feature SmartStay and claims it will make using Galaxy S3 more intuitive. It also has a S voice feature which works similar to Siri on iPhone.
This smartphone is announced with a good news for indian consumers. Although samsung has pulled the decision of selling Galaxy Nexus in India, Samsung Galaxy S3 will arrive in India soon this month.
The phone also includes an NFC chip – near-field-communications – allowing users to share content such as video by tapping phones together.
This phone also comes with a separate wireless charging kit means you can charge your phone without hooking it up to the socket.
The Galaxy S III release date is May 29th globally, and the summer for the US.
Source: Samsung