Nokia 808 PureView up for pre-order for Rs 32,000
After long rumors, Finally Nokia 808 Pureview is up for pre-order for the price Rs 32,000 (Rs 33,999 being the MRP) via online retailers "buytheprice.com". But Nokia has not confirmed the pricing yet. This smartphone was unveiled in MWC this year.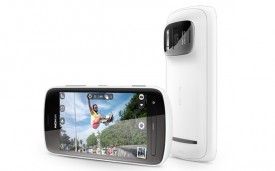 Nokia 808 Pureview smartphone has 41 megapixel camera sensor with Carl Zeiss optics. This phone also allows users to shoot photos at different resolutions such as 2 megapixel, 3 megapixel, 5 megapixel, 8 megapixel or full resolution. The maximum resolution you can shoot at is 38 megapixels in 4:3 aspect ratio and 34 megapixels in 16:9 mode. This camera also allow users to capture videos 30fps, with 4X loss less zoom.
This phone is powered by 1.3 GHz processor and runs on Nokia Belle operating system. It comes with 16GB of internal user memory which can be expanded upto 32 GB via microSD card.  It comes with 512 MB of RAM, along with 1GB ROM. It has a 4-inch touchscreen display with Corning Gorilla Glass that can deliver a 640 x 360 pixels resolution.