Facebook goes public, Zuckerberg rings NASDAQ opening bell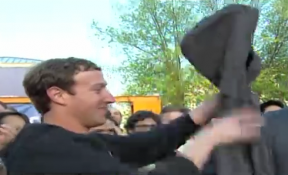 On Friday morning, CEO and founder of Facebook, Mark Zuckerberg rang the bell to open the Nasdaq Friday from his company headquarters in Menlo Park, California.
The company is offering 421,233,615 shares and company's stock, priced at $38 per share, was to begin trading under the symbol "FB" on the Nasdaq, giving the leading website a dizzying value of $104 billion at its market debut.
Seven minutes after its first trade, the stock was hovering at about $40, a $2 gain over its offering price. More than 80 million shares have traded in the first minute at the Nasdaq.
Now Facebook is among the most valuable US companies and ahead of Amazon ($98 billion) and Cisco ($89 billion). But Facebook is far behind from Google ($203 billion) and Apple ($495 billion).
Now It will be interesting to see how Facebook will perform in stock market.
What do you think about Facebook's future after going public? Share your views with us via comments.