Facebook Acquires Karma, Gift App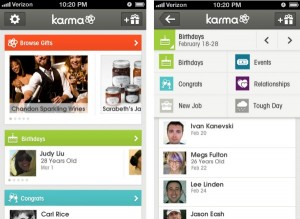 Facebook has acquired another company Karma which is an app for gift. Karma app allows users to send gifts to friends via SMS, email, and Facebook.
In this app, users can browse through virtual store and pick a gift for their friends. Karma had also partnered many popular companies including Hulu, Gund, MoMa and Spotify for some better selection of gifts.
"We've been really impressed with the Karma team and all they accomplished in such a short time," a Facebook spokesperson said in a statement. "This acquisition combines Karma's passion and innovative mobile app with Facebook's platform to help people connect and share in new and meaningful ways."
All 15 employees will now join Facebook. Nothing about the acquisition was disclosed.
Here's the full announcement from Karma:
Karma is moving to Facebook: Why social gifting is about to get a lot more social

We founded Karma with the goal of adding the sentiment and meaning back into gift giving. That's what Karma is all about. That's what the Karma team set out to achieve.

Over the last year, we've built a new e-commerce platform from the ground up. We've been honored to partner with amazing brands to create a curated catalog of products. We made those products instantly giftable in a brand new way. And we harnessed the power of Facebook's social network to ensure you never miss a chance to show someone you care. The phenomenal response and feedback we've heard from customers has more than exceeded our expectations. And we're just getting started — today we take social gifting to the next level.

We're thrilled to announce that Karma has been acquired by Facebook. The service that Karma provides will continue to operate in full force. By combining the incredible passion of our community with Facebook's platform we can delight users in new and meaningful ways. As we say … only good things will follow.

Simply put, together we can celebrate life's important moments in ways we could not before. A word of heartfelt thanks to our partners, customers, and our incredible team for helping us share Karma with so many people.

Sincerely,
Karma Co-founders Lee & Ben