Bing gets new design, three column layout
Microsoft has changed the design of its popular search engine, Bing. This new design aims to fight with Google and take the crown of top search engine. This brings a new 3 column layout which aims to bring better search information to users.
Last week Bing has cleaned search result page. This new design is just a step ahead from that and adds a third column. This new column is social which shows few more results including review, maps, rating and other things related to it. You can see the snapshot below.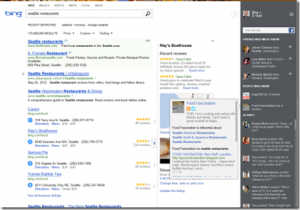 This new third column is called "Social Search". Bing said, " Whether it's making a purchase, deciding on a vacation destination, choosing a great restaurant, or figuring out which movie to see this weekend, the new Bing focuses on bringing friends, experts and enthusiasts into your search experience through a dedicated social "sidebar." With sidebar, Bing brings together the best of the web, with what experts and your friends know, giving you the confidence to act"
This sidebar will always remain at the right side but will remain off. You can also post question to get help from your Facebook friends as you search. You can "tag" friends Bing suggests might know about the topic. In a few simple clicks you can share your search and your friends can reply to your question on either Facebook or Bing.
Bing suggests friends on Facebook who might know about the topic – based on what they "like", their Facebook profile information, or photos they have shared – so you can easily ask them about relevant experiences and opinions and go quickly from searching to doing.
Beyond friends, Bing can help you find people who are influential about the topic you're searching, based on what they've publically blogged or tweeted about. In a glance you will see top experts and enthusiasts from leading networks like Twitter, Foursquare, Quora, LinkedIn, Google Plus and Blogger to quickly check out what they have to say about the topic you're searching for.
Bing has even considered an even deeper Facebook integration called "broadcast mode" which you could enable to automatically share all your searches with your Facebook friends.
This new design is going to be a successful step for Bing. These changes will make Bing search deeper and social with Facebook. Few days back, Google had added Google+ for making search social. So Facebook is trying to have same thing with the help of Facebook.