How to do Private Browsing on Android
When we use internet from our desktop system, all the popular browse has an option to go on private browsing mode. As I am a chrome user, i switch to incognito mode and start browsing the web.
First of all, if you do not know what is private browsing, read the line below:
Private Browsing allows you to browse the Internet without saving any information about which sites and pages you've visited. So when you don't want other users on your computer to see what you have accessed on the internet, you can switch to the private browsing mode.
Warning: Private Browsing doesn't make you anonymous on the Internet. Your Internet service provider, employer, or the sites themselves can still track what pages you visit. Private Browsing also doesn't protect you from keyloggers or spyware that may be installed on your computer.
With the increasing use of smartphones, now we use our smartphones to do most of our task on the internet. Sometimes we also need private browsing mode on our smartphones too. If you are Android user, you can enjoy private mode by following ways.
Google Chrome For Android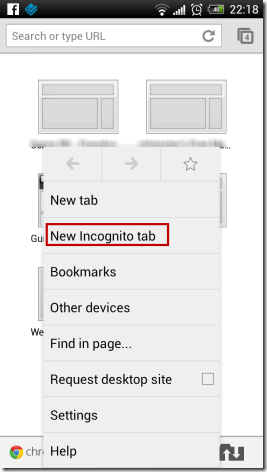 As I said that i am a Chrome user and Google Chrome which allows easy switching to incognito mode for private browsing. It means Chrome can also be used on Android too for the same. Google has launched Google Chrome browser for Android devices which has all the feature of desktop version.
Whenever you want to go off the record on the internet, just open the settings panel by clicking on the Menu soft key and select the option New Incognito Tab. That's all, you can now browse freely on the new incognito tab without leaving any browsing history.
But Google Chrome for Android is only available for the Android devices running on Android ICS 4.0. For users who are using other Android version, private browsing can be achieved by the Dolphin HD browser.
Dolphin Browser HD for Android
Dolphin browser HD is another popular browser for Android devices. It supports all the Android devices running on Android 2.1 or higher. Though there is no dedicated feature for going completely off the records like we had in Chrome but we can achieve this with a privacy option available on browser settings page.
Once you have installed the browser on your device and finished with the initial setup wizard, press the Menu button—>More—>Settings on the home screen. Here navigate to the Private and Security tab. Now select the option browsing without history.  Unselect the option to go on regular browsing mode.