Yahoo To Shut Down Yahoo Meme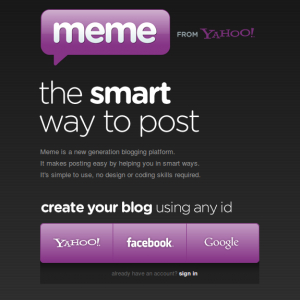 Yahoo has announced the end of one more service. This is Yahoo Meme which is unknown from most of users. Yahoo Meme is a blogging platform which took some features from Twitter and some from Tumbler.
This service debuted in Portuguese language two years back. Later it was translated into English. But this service was failed to get users attention.
"Meme will be discontinued on May 25, 2012. You don't need to take any action. But if you want, you can export all your posts or delete your account," Yahoo announced.
"On May 25th, we will shut down the site and all Meme URLs will become inaccessible. From this point on, you will not be able to access Meme anymore. Your Yahoo account remains unaffected," the company explained.
If you are a regular uer of Yahoo Meme, you will only be able to post until April 25th. After that though, the site will become read-only. Parts of the MEME API will also stop working.