Dropbox for Android gets automatic image upload
Dropbox for Android app gets a new update and added automatic image upload feature. This new feature allows users to set the automatic image upload to users Dropbox cloud storage via mobile data or Wi-Fi, or, just Wi-Fi.
Although some alternate apps already available but the official Dropbox for Android has no restriction for the size of image uploaded. So users can now store their high-resolution photos to their Dropbox storage.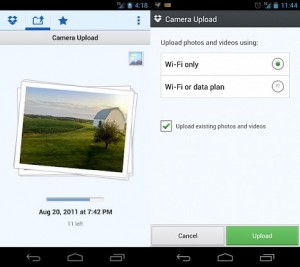 Dropbox has also announced a new feature for Windows. This new feature for windows will prompt users to upload photos to their Dropbox account when they insert a memory card or pen drive. This is an interesting feature that will help us to store and protect our files on cloud.
Dropbox for Android app is now available to download for free from Google Play Store. Download this app and get in touch with your files on this cloud storage service.