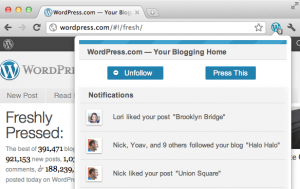 WordPress.com has just launched a Google Chrome extension which allow users to do most of the things without going to the wordpress.com. The main use of the extension is to keep track of everything and see the notification without going to your wordpress dashboard. You will receive an update every time your blog gets a new follower or someone likes one of your posts.
"Clicking the Follow button will add new posts from the website to your reader, and send you an email each time an update is published. (You can change your default email settings if you like.)," WordPress.com explained in a blogpost.
Best deals on mobile phones
Thinking to buy a phone? do not miss these awesome deals
"When you visit a WordPress.com site, you'll notice that the extension icon will turn blue, but keep in mind that you can follow blogs on Blogger, Tumblr, and other services, too," wordpress.com added.
This extension will also allow users to quickly follow any website in just a click. You can also post anything with this extension to any of your wordpress.coom blogs. A pop-up editor is available to scribble down some thoughts or even a slightly longer post. You can then publish it to any of your blogs. You can also add images and format your post like you normally would.
---
Advertisement
---