How to integrate Twitter with Your Google+
Integrate Twitter in Google+ to get and reply all tweets in real time on Google+
Google+ is the new social network by search giant Google. Few days Back Google CEO had announced that Google+ now has 90 million users. For all those who use twitter most, i have one more reason for you to use Google+. Now you can post to your twitter, see twitter updates of your friends and can reply to your friend's tweets from Google+. So you do not need to switch to anotherr account. But this feature is only available for Google+
Google+ and Twitter at the same place. G+Twitter extension for Chorme inserts twitter feed in your Google+ streams in realtime. Real time means, you will get instant twitter updates on Google+, no wait times or time-out periods.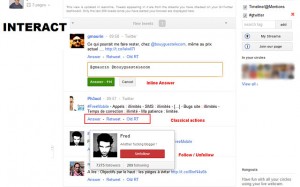 Follow these steps to add this real time Google+ twitter client to your Google Chrome.
Go to the Chrome store and download G+Twitter.
Now login to your Google+ account.
You will see you tweets in update stream.
You will see the link for Answer and retweet just below your twitter updates.
You can also share your friend's Google+ posts with your twitter followers. You can tweet with the share box at the top of your update stream. You can also follow or unfollow people on Google+.
This Google Chrome extension integrate your twitter account with You Google+ account. You will be able to use all the functions of twitter on Google+. You do not need to go and login to your twitter account anymore.