Twitter launches web version of TeewtDeck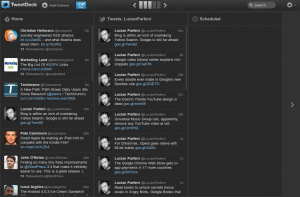 Few days back twitter has rolled out new design for website and all apps including Tweetdeck. Now website and all apps look similar with new design. Twitter has just make the new version live for Tweet deck web version. Web version of Tweet deck is now launched which is built in HTML 5.
Twitter explained,"Built with HTML5, the web version of TweetDeck syncs your accounts, columns, layout and settings whenever and wherever you sign in. And, TweetDeck now reflects the overall design of Twitter with Profile and Tweet box pop-ups."
"Whether you are listening to conversations about a topic that impacts your business, or a journalist covering breaking news, TweetDeck on the web gives you an even simpler way to filter content," it said.
The new version of Tweetdeck is similar to the tweetdeck chrome app. All the features are similar as in preious version but with new design. It also removed the previois bugs. All who are hardcore users of Twitter will find this useful.