Google chrome 15 becomes No.1 browser, overtakes IE 8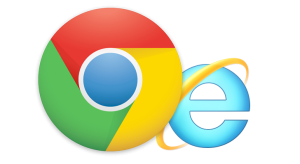 Google Chrome is going up day by day to dominate the browser market. Few days back it had overtaken Firefox to become number 2 browser in overall browsers market. But the latest study by StatCounter says that Google Chrome 15 is now the most used web browser.
In This study, different versions of browsers are taken as different browser. If we combine the IE9, IE8, IE7 and IE6 usage, then IE is still at the top of the list.
The report is generated with data which covers the last week of November, when Chrome made 23.6 percent of visits while IE8 just 23.5 percent.
But the report is not showing the fair comparison because Google Chrome has automatic update feature while IE users having older version will not get any such kind of updates. So Chrome users will always be using latest updated version thus the counter for Chrome will surely better than IE.