Facebook For Android Gets A New Look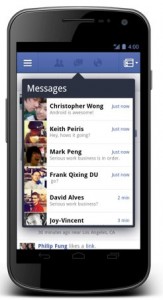 Facebook appears to update the official app for Android smartphones with a new look as in iPad app. This update will roll out soon in Android Market.
I can not see this updated app in Android market but engadget has posted some pics of this updated look of the app. Users will be able to download this app when it will go live in the Market.
This new app for Android is also twice as fast while uploading or browsing photos. UI is much like the same as in iPad app. iPad UI was liked by all the users and praised. This may be the reason for launching the same UI to Android
Its unclear how this app will be available to users. Nothing is confirm. Facebook has also posts some pics in a post and engadget has posted some pics that was not in the facebook posts.